The model and actress, 57, proved she can still make the temperature soar when she posed completely nude for Valentine's Day on Instagram on Tuesday.
The 57-year-old actress Elizabeth Hurley doesn't leave much to the imagination as she celebrates Valentine's Day by stripping naked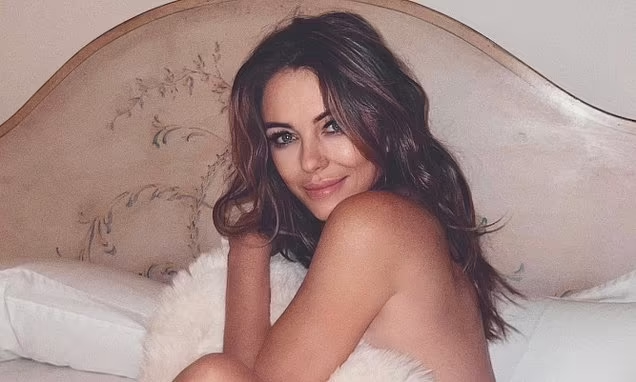 Some ecstatic Instagram users even crowned the Austin Powers actress the Queen of Valentine's Day after gushing over the racy photo and calling Liz a "divine."
With her dark hair in flowing curls down her back, Elizabeth undressed to reveal her stunning body.
Liz sat cross-legged on the unmade bed, obscuring her bare body with the soft home decor item.
With her immaculate makeup and dramatic poses in her white bed, she looks absolutely stunning.
It follows Elizabeth's earlier this year blue bikini photo from her Maldives vacation, where she showed off her ageless body.
The Tuesday post was captioned simply, "Happy Valentine's Day," by the single mother of one.
A designer named Patrick Cox was among the first to respond with a written comment "Those are the pillows I gave you!! Greetings on this day of love, Lillibet. Px."
Underneath one of Liz's gorgeous photos, a fan said, "Wtf, absolutely no other women like u."
Another said, "You are lovely," while a third chimed in, "Happy Valentine's Day, you are so timeless."
Just earlier this year, Elizabeth took a luxury trip to the Maldives, where she wore a blue bikini to show off her ageless body.
She gave her fans an insight into her trip by sending them a video message that began, "Good morning from the beautiful Maldives."
She turned up Selena Gomez's Ring and began spinning and dancing in the pool.
The girl looked very lovely in a two-piece swimsuit with a plunging triangle design.
A dazzling sequin detail on her blue bikini caught the light and caught everyone's attention.
Elizabeth's dark hair was left down to flow freely in the air.
She finished her flawless makeup application with a pair of large-frame sunglasses to hide her age.
Elizabeth turned around, a broad grin stretching across her face, and raised both her arms.
Read also :