The Talisman Pouch is one of many Key Items in Elden Ring that allows you to increase the number of talismans you can equip at the same time. This Elden Ring guide will walk you through the process of locating all Talisman Pouch locations.
Elden Ring Talisman Pouch Locations
The Talisman Pouch can be obtained by progressing through the main story or discovering and exploring locked and hidden areas. There are three Talisman Pouches available in Eldren Ring right now. When you find and select a Talisman Pouch, the number of Talismans you can equip increases by 1.
Talisman Pouch #1
When you defeat the first Elden Lord, Godfrey, you will obtain the first Talisman Pouch. He is in the Royal Capital of Leyndell. Godfrey is a formidable foe, so make sure you're properly equipped and leveled before taking him on.
Talisman Pouch #2
Margit, the Fell Omen boss, must be defeated in order to obtain the second Talisman Pouch. This boss can be found in Stormhill, to the southeast of Stormveil Castle. We've included a map image of Margit, the Fell Omen boss, for your convenience.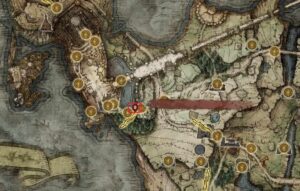 Talisman Pouch #3
You'll need two Great Runes to get your hands on the final pouch. The Great Runes are obtained by defeating a Demigod, who are Elden Ring's main bosses.
Elden Ring has 7 Demigod bosses that drop the following Great Runes.
Godrick's Great Rune (Dropped by Godrick the Grafted located in Stormveil Castle.)
Great Rune of The Unborn (Dropped by Rennala Queen of the Full Moon, located in Raya Lucaria Academy in Liurnia of the Lakes.)
Malenia's Great Rune (Dropped by Malenia, located in Brace of the Haligtree.)
Mohg's Great Rune (Dropped by Shardbearer Mohg, located in Mogwyn Palace.)
Morgott's Great Rune (Dropped by Morgott, the Omen King, Leyndell, located in the Royal Capital.)
Radahn's Great Rune (Dropped by Starscourge Radahn, located in Wailing Dunes.)
Rykard's Great Rune (Dropped by Rykard, Lord of Blasphemy located in Mt. Gelmir.)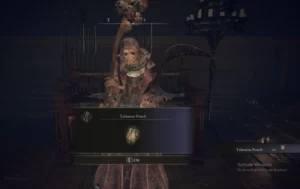 You may bring either of the two runes of your choice, depending on your comfort level. After obtaining any two Great Runes, proceed to Roundtable Hold to speak with Finger Reader Enia. She will congratulate you before handing you another Talisman pouch. You can claim the pouch at Twin Maiden Husks if you don't go to her after the Maliketh fight right before she dies.
How to Equip and Use Talisman Pouch in Elden Ring
After you have obtained all three talisman pouches, you are free to fill them as you see fit. There are numerous worthy options available, and the decision is entirely up to you. Before selecting all four talismans, consider what your build requires and consult some of the weapon guides.
Pouches are directly equipped into a designated slot in your inventory. At the start of the game, you can only equip one talisman. As a result, you must seek out pouches in order to equip more talismans, as the maximum number of slots is four.
Elden Ring Wiki
Elden Ring
Developer(s)
FromSoftware
Publisher(s)
Bandai Namco Entertainment
Director(s)

Hidetaka Miyazaki
Yui Tanimura

Producer(s)
Yuzo Kojima
Programmer(s)
Writer(s)

Hidetaka Miyazaki
George R. R. Martin

Composer(s)

Tsukasa Saitoh
Shoi Miyazawa
Tai Tomisawa
Yuka Kitamura
Yoshimi Kudo

Platform(s)

PlayStation 4
PlayStation 5
Windows
Xbox One
Xbox Series X/S

Release
February 25, 2022
Genre(s)
Action role-playing
Mode(s)
Single-player, multiplayer