Thanks to leaks, we now have our first look at Orange Piccolo in the upcoming DLC pack for Dragon Ball Xenoverse 2. Here are the details.
Dragon Ball Xenoverse 2 leak shows the first look at Orange Piccolo
These two images, shared by Twitter user DbsHype, are the first look at Orange Piccolo in Xenoverse 2. Like many other Dragon Ball game reveals, these seem to have been made public for the first time in V Jump, with further details to follow.
Xenoverse 2: Hero of Justice Pack DLC 2: Orange Piccolo First Look! More info in this month's V Jump will be revealed. pic.twitter.com/KEaFqz8RVn

— Hype (@DbsHype) January 13, 2023
In light of the responses to that tweet and to others who have shared similar previews, it seems that Orange Piccolo has widespread support. This version of the legendary Dragon Ball character made his debut in the latest Dragon Ball Super film and quickly became a fan favorite. In this form, he appears bulkier and more muscular, and the orange skin is a striking visual contrast to his usual appearance.
Although Orange Piccolo and his elastic limbs are an interesting preview of upcoming DLC, they are only a small part of what has been shown off so far this week. It's safe to assume that more characters will be added in this DLC, as Bandai Namco confirmed that the first DLC would include Gamma 1 and 2, as well as the movie's version of Gohan.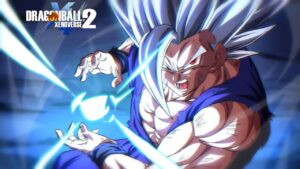 Naturally, having Beast Gohan as an option is high on people's wishlists, since the previous Gohan addition was his base form from the movie rather than the power-up. The DLC also added new features such as abilities, quests, skins, and more.
About Dragon Ball Xenoverse 2
Dragon Ball Xenoverse 2
Developer(s)
Dimps
Publisher(s)
Bandai Namco Entertainment
Director(s)

Yuka Kobayashi
Takeshi Sakamoto

Producer(s)

Masayuki Hirano
Masahiro Kashiro

Designer(s)
Tsuyoshi Narabayashi
Artist(s)
Shohei Imamura
Writer(s)

Kaori Osamura
Yuki Hosokawa

Composer(s)
Steve Aoki
Series
Dragon Ball
Platform(s)

PlayStation 4
Xbox One
Microsoft Windows
Nintendo Switch
Stadia

Release
Genre(s)
Fighting, role-playing
Mode(s)
Single-player, multiplayer