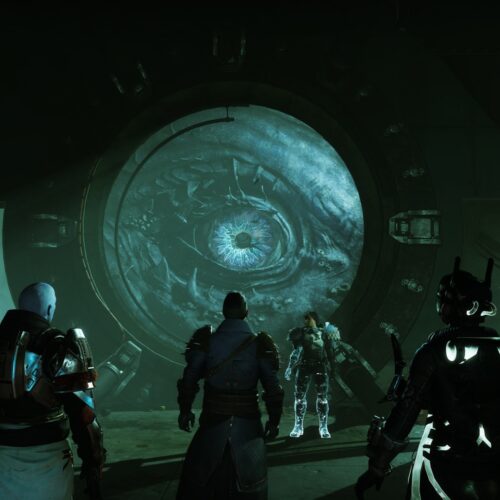 Now that Season 2 of Destiny 2 has begun, you know what that means. The lasted title in Destiny 2, Aquanaut, requires the completion of a series of triumphs, all of which are listed below.
Destiny 2 Guide – How to unlock the Aquanaut Title
There are a total of 10 triumphs out there for you to achieve. Keep in mind that some of these are top secret and may be connected to upcoming Dungeons or Exotic questions that won't be made available until later in the season.
Weekly Wetwork –  Complete each week of the quest "Into the Depths."
Challenges Accepted – Unlock all Seasonal bonuses earned by completing Seasonal Challenges.
Echo Relocation – Reset your vendor rank with the Sonar Station.
Reprised Reckoning – Defeat targets with Season of the Deep weapons. Defeated Guardians grant additional progress.
Big Fish – Defeat each unique boss in the Salvage activity.

Azshradat, Celebrant of Xivu Arath
Uorgotha, Scourge of the Deep

Down the Drain – Defeat each unique boss found on your Deep Dives.

4W-S, Wrathborn Servitor
Kudazad, Bound to Xivu Arath
Kelgorath, Taken from Bones

Pressurized Deep – Complete a Deep Dive with Pressure Trials active on each encounter.
Quantity Over Quality – Catch fish at any Fish Pond.
Ambitious Angler – Catch an Exotic fish at any fishing pond.
Secret Triumph – Unknown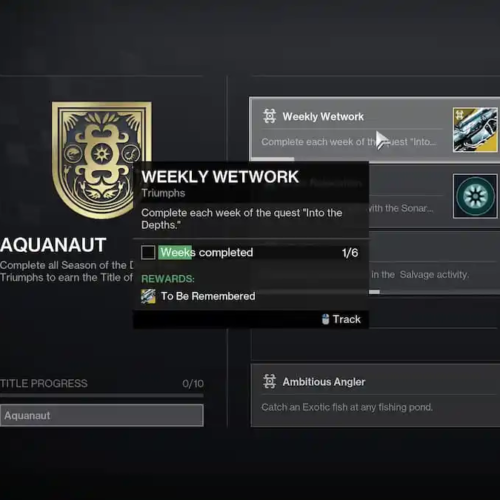 It will take a few weeks before we can identify those final hidden triumphs. Usually these sorts of things aren't shown off until much later in the season. But you can bet that the recently returned Titan has something to do with it.
This concludes our list of all Aquanaut Triumphs in Desitny 2.
Destiny 2 PC system requirements
Minimum
Requires a 64-bit processor and operating system
OS: Windows® 7 / Windows® 8.1 / Windows® 10 64-bit (latest Service Pack)
Processor: Intel® Core™ i3 3250 3.5 GHz or Intel Pentium G4560 3.5 GHz / AMD FX-4350 4.2 GHz
Memory: 6 GB RAM
Graphics: NVIDIA® GeForce® GTX 660 2GB or GTX 1050 2GB / AMD Radeon HD 7850 2GB
Network: Broadband Internet connection
Storage: 105 GB available space
Recommended
Requires a 64-bit processor and operating system
OS: System Windows® 7 / Windows® 8.1 / Windows® 10 64-bit (latest Service Pack)
Processor: Processor Intel® Core™ i5 2400 3.4 GHz or i5 7400 3.5 GHz / AMD Ryzen R5 1600X 3.6 GHz
Memory: 8 GB RAM
Graphics: NVIDIA® GeForce® GTX 970 4GB or GTX 1060 6GB / AMD R9 390 8GB Memory 8 GB RAM
Network: Broadband Internet connection
Storage: 105 GB available space
Related: