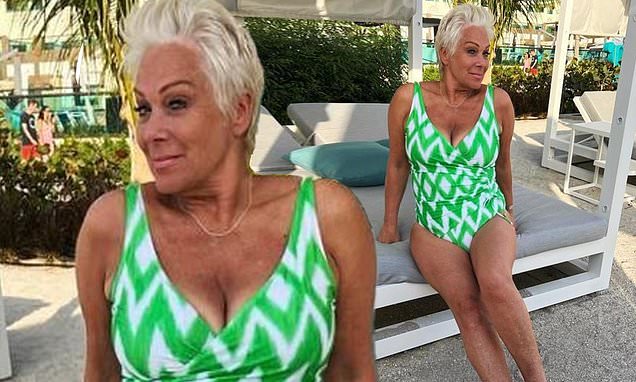 On Friday, the Loose Women host posted a beautiful vacation photo to Instagram, featuring her and her husband, Lincoln Townley, along with some of their friends.
Denise Welch radiated beauty in a green swimsuit as she posed for photos on a beach in Dubai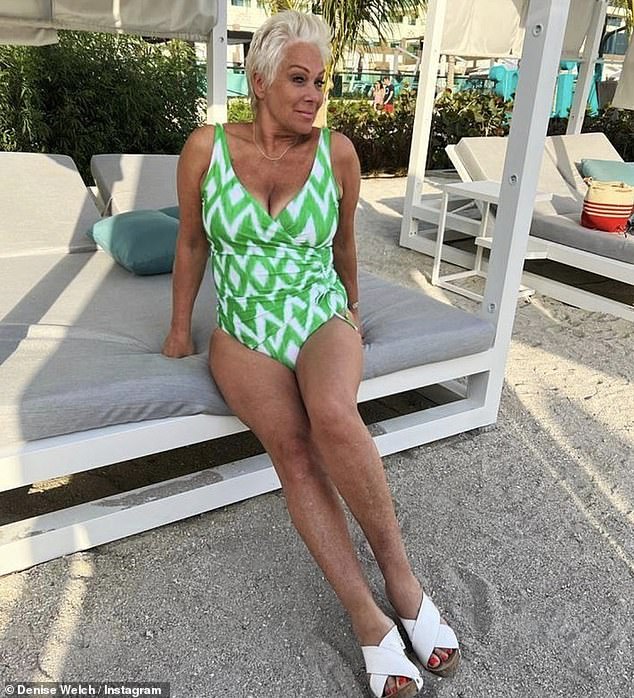 Relaxing on a day bed, she flaunted her incredible figure in a low-cut swimsuit with a green and white print.
Denise paired her white tank top and shorts with white sandals and a silver chain necklace for a beachy look.
She slicked back her silver hair and applied a dab of mascara to accentuate her natural beauty.
Denise flaunted her newly bronzed body in the photo as she tanned while on vacation at the five-star Hilton Dubai Palm Jumeirah.
Denise joked next to the illuminated photo: 'Not bad weather for a February night!!'
Her latest post comes after Denise recently hit back at trolls who gave her 'flack' for posing in a swimsuit at the age of 64.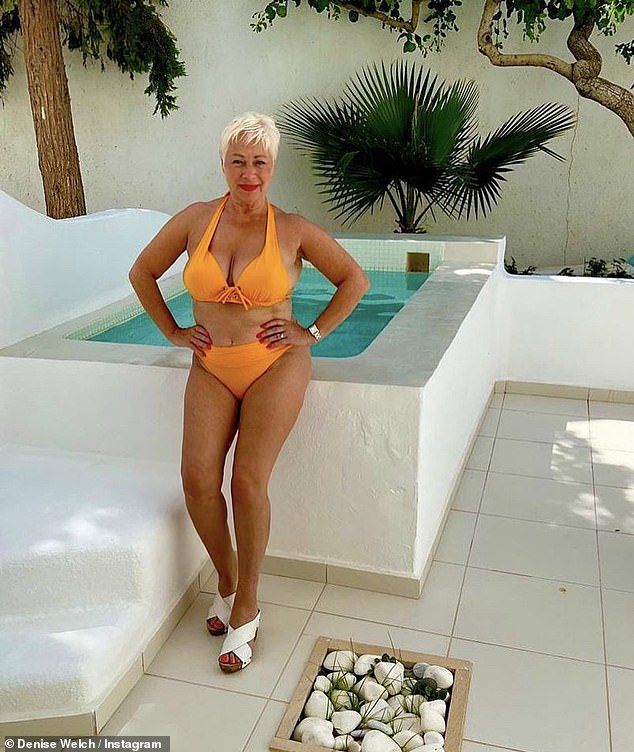 As of earlier this month, she has come forward to say that she has received a lot of hate mail since she began sharing raw photos of herself in her swimsuit online.
The Coronation Street star responded to her critics online by saying she hoped to inspire other women who may feel insecure.
Denise was a guest on her friend Kaye Adams' podcast, How to Be 60, where she opened up about accepting aging and being happy with who she is.
She fired back at her critics, saying: 'If anybody says that I help to empower women then that's a badge I'll wear.
'I get so much flack for still posing in swimsuits at 64 but I don't care because if one person says "I was feeling really low on myself and I saw you in a swimsuit and you're in your sixties".'
'And you know, I don't filter them – partly because I don't know how to,' she explained.
Denise went on to say that she was the 'poster girl' for the idea that it's never too late to do anything, because she had her second child, Louis Vincent, when she was 42 years old.
She also thought about how she met her husband Lincoln later in life and called him the 'love of her life.'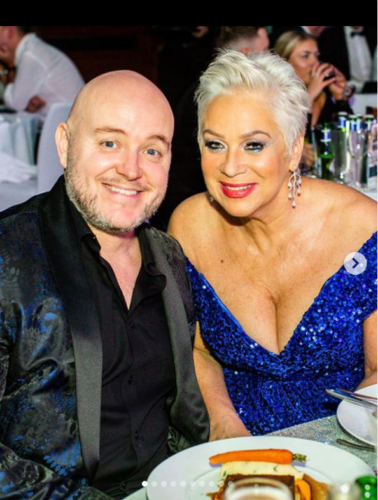 Denise and Lincoln met for the first time in a London nightclub in 2011. Two years later, they got married at a destination wedding in Portugal.
Denise's ex-husband Tim Healy is the father of her two sons, Louis, 22, and The 1975's Matty, 33. She was married to him for 23 years until they divorced in 2012.