Call of Duty: Mobile has a number of ways for players to track their progress, such as scorestreaks and various medals. As of this writing, the battle royale title has over 86 medals, one of which is the Eagle Eye Medal. In this guide, we'll go over everything you need to know about the COD Mobile Eagle Eye medal and how to obtain it.
COD Mobile – How To Earn Eagle Eye Medal
The Eagle Eye medal on COD Mobile can be obtained by completing a kill in Battle Royale mode from 75 meters or more away using a weapon without a scope. It should be noted that this medal is only available in Warfare mode. They must complete this task in COD Mobile's Blackout or Isolated maps.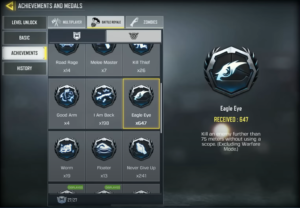 Getting a kill on an enemy from more than 75 meters away without a scope is difficult. However, by following the tips below, players can complete the task relatively quickly:
Play in the solo lobby where the chances of encountering bots are much higher. Bots are much easier to take down than actual players.
Once you have located your potential targets, you can mark them to make sure they are 75 meters or further away.
Use high magazine weapons like LMGs or marksman rifles like the SKS.
Instead of floor and crate loots, try to get kills with weapons from the loadout drop that have a more accurate build.
After killing a player from the specified distance, the Eagle Eye medal will appear on the screen and be added to your medal collection. From the main menu, players can see how many medals they have in their achievement profile.
Call of Duty: Mobile Wiki
Call of Duty: Mobile
Developer(s)
TiMi Studio
Publisher(s)
Activision
Series
Call of Duty
Engine
Unity
Platform(s)
Android, iOS
Release
October 1, 2019
Genre(s)
Shooter
Mode(s)
Multiplayer