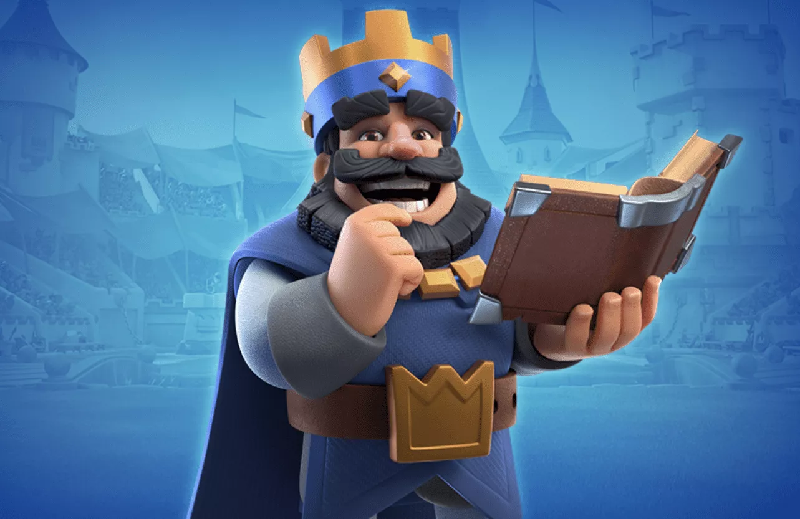 Clash Royale is getting a new update that they're calling "the biggest update of the year."
Clash Royale update October 26 patch notes details :
The following Clash Royale main game update patch notes for October 26 were taken from the official release notes on the Clash Royale website:
TWO NEW CARDS
Two new cards are entering the Arena!
MONK
Monk is a brand new Champion who has spent years studying his unique fighting style in his Arena, the Silent Sanctuary. This Arena is where he will be unlockable on the Trophy Road at 6500 Trophies!
When attacking, Monk unleashes a powerful 3-hit combo that pushes back enemies with the final strike! This final super-punch includes a pushback which deals extra damage to every affected unit (like the Log).
PHOENIX
Phoenix is a new Legendary flying unit with Melee Attacks. Once defeated, it will explode in a fiery… fire… and deal Area Damage to nearby units and buildings, retreating into a Phoenix Egg.
If this Egg is not destroyed in time, Phoenix will be reborn (bet you didn't see that one coming) at full Hitpoints, ready to fight again!
Note: Phoenix will only be reborn from an Egg once per deploy.
SPECIAL ABILITY
Monk channels his meditative powers through Pensive Protection, creating a protective aura around himself and nearby allies, reducing Damage taken and reflecting any projectile that comes his way.
Yes, this includes Rockets!
PATH OF LEGENDS
A NEW COMPETITIVE RANKED MODE
The Path of Legends replaces the old League system on Trophy Road and consists of 10 Leagues, with the Hall of Fame in the final League containing the best players in the world.
LEAGUES AND LEVEL CAP
When reaching Arena 15 at 5000 Trophies, you will unlock the new Path of Legends by tapping the icon next to the Battle button on the main screen.
The Party! button is now available from the hamburger menu (top right on the main screen).
Each League is level capped, which means that your Cards or Tower Power can not go above a certain level defined by the League you are in.
CLIMB THE PATH
After winning a battle in the Path of Legends, you will climb up to another step, pushing you closer to the next league.
There are two types of steps, STONE STEPS and GOLDEN STEPS.
Stone steps will break after a loss, sending you back down the Path. Golden steps do not break! Once you've reached a golden step, you will not lose progress even if you lose a battle. Aim for the golden steps!
When you reach a new League, you cannot go back down to the previous Leagues through losing.
ULTIMATE CHAMPION
The best of the best!
In the Ultimate Champion League, players are awarded a rating based on the number of wins and losses they accumulated on their journey to the top League, starting from Master II (League 5).
This rating will evolve depending on win rate, and will reset with each ranked Season.
If you're among the best 10,000 players, you will be awarded a rank and enter the Hall of Fame! The Top 1000 ranked players will appear in a Global Leaderboard, displayed at the end of the Path of Legends.
RANKED SEASON RESET
At the end of each Ranked Season, all players will restart their journey through the Path of Legends.
Based on your season finish, you will receive a Win Multiplier that will help you progress to where you were before the reset. The Win Multiplier will decrease after each Battle you win.
Challenger I League

Golden Step: Always
Level Cap: 11
Win Multiplier: 1

Challenger II League

Golden Step: 1 in 3
Level Cap: 11
Win Multiplier: 2

Challenger III League

Golden Step: 1 in 4
Level Cap: 11
Win Multiplier: 2

Master I League

Golden Step: 1 in 5
Level Cap: 12
Win Multiplier: 3

Master II League

Golden Step: 1 in 6
Level Cap: 12
Win Multiplier: 4

Master III League

Golden Step: 1 in 7
Level Cap: 13
Win Multiplier: 4

Champion League

Golden Step: N/A
Level Cap: 13
Win Multiplier: 5

Grand Champion

Golden Step: N/A
Level Cap: 14
Win Multiplier: 5

Royal Champion

Golden Step: N/A
Level Cap: 14
Win Multiplier: 6

Ultimate Champion
The above may be subject to change in future Ranked Seasons.
REWARDS
Of course, there will be rewards for players who choose to compete in ranked mode!
You claim rewards as you climb the Path of Legends. Some will be one-time rewards (displayed on the left of the Path), whereas others (on the right of the Path) will refresh after each season reset.
TROPHY ROAD REWORK
With the new Path of Legends opening, we have made some changes to the Trophy Road!
The Trophy Road now stops at 7500 Trophies and will not reset at the start of a Season anymore. You will be able to earn Trophies, visit new Arenas, and collect one-time rewards on the way. Once reaching the end of Trophy Road, you will not win (or lose) any more Trophies. But you will still be able to play in it, and get Chests and Victory Gold, without the fear of losing anything!
With the addition of 6 new Arenas on the Trophy Road, Chest content and Victory Gold will also scale up. The higher you are, the more rewards you will earn!
LEVEL GATES AND TROPHY FLOORS
The Arenas on Trophy Road will now have Level Gates. You will have to gain enough experience and upgrade your King Level to access them.
All Arenas will also have Trophy Floors, meaning that once you've reached a new Arena, you won't be able to go back to the previous one.
CHAMPION UNLOCKS
Champions are now available for players on the Trophy Road starting at 5500 Trophies (Arena 16, King Level 33).
Yes, King Level 33!
More about that in the next section…
16: Executioner's Kitchen

Champions: Golden Knight and Skeleton King
King Level: 33

17: Royal Crypt

Champions: Archer Queen and Mighty Miner
King Level: 36

18: Silent Sanctuary

Champion: Monk
King Level: 39
KING LEVEL REWORK
Your King Level will now be separated from your Crown Tower level and will go up to level 50. The maximum Crown Tower level, now called TOWER POWER, will still be 14 and applies to both King and Princess Towers. Card Levels will remain unchanged (Level 14 is still the Max Level for cards)!
Here's a handy conversion chart for what to expect with your King Level when the update drops.
Level 1 – 3 / Level 1 – 3
Level 4 / Level 5
Level 5 / Level 7
Level 6 / Level 10
Level 7 / Level 14
Level 8 / Level 18
Level 9 / Level 22
Level 10 / Level 26
Level 11 / Level 30
Level 12 / Level 34
Level 13 / Level 38
Level 14 / Level 42
For example: if you're currently King Level 9 with 6000 XP points, your new King Level will be somewhere between 22 and 26, and you'll keep your Tower Power at 9.
King Level 14 players will receive ALL of the experience that they have already accumulated whilst at Max Level.
Bug fixes
Finally, there are a number of bug fixes and improvements coming to the update. Please find these below:
Added missing particles FX to Goblin Drill's Star Level 1
No more 'Drag Glitch' (Fixed an issue where placing two cards in quick succession would fail to play one of the cards)
Removed 'Gold Discount' briefly image appearing after applying a Wild Card
Fixed an issue where Golden Knight dashed to an empty space with no target
Fixed a crash that could occur on the Battle Banner edit screen
Fixed an issue where the new event text for Crown/Gold Rush could block the ability to access the Supercell ID quick-switch button
Fixed an issue where unlocking Mini P.E.K.K.A caused all card previews to be stuck with a loading spinner
Fixed an issue where Royal Recruits could be placed on the opposing player's side
Fixed an android-specific issue where a Gem animation would not appear after a Shop purchase
Fixed an android specific issue where the keyboard would load twice
Fixed an android specific issue where emojis were displaying incorrectly
Fixed an issue where mystery numbers would appear on the opponent's Decks during the Ban phase in Ban Pick Duels.
Fixed an issue where the Banner Token 'Collect' button incorrectly directed players to the Shop when their Banner Token inventory was full
Fixed an issue where Sparky was not reset when hit by Electro Spirit at the same time she was being hooked by Fisherman
Fixed an issue where trying to place a Champion into an invalid slot in your Deck canceled the placement, forcing a player to re-select the Champion