On Wednesday, Chloe Bailey posted a set of photographs to Instagram showcasing her great sense of style.
Chloe Bailey bares her curves in a revealing performance outfit
The 24-year-old singer-songwriter gave a closer look at one of her stage outfits in the images and donned a similar ensemble in a series of videos posted on her Story, giving her 6.1 million followers a glimpse into her performance style.
In Pieces Tour, the performer's debut tour as a headliner, began earlier this month.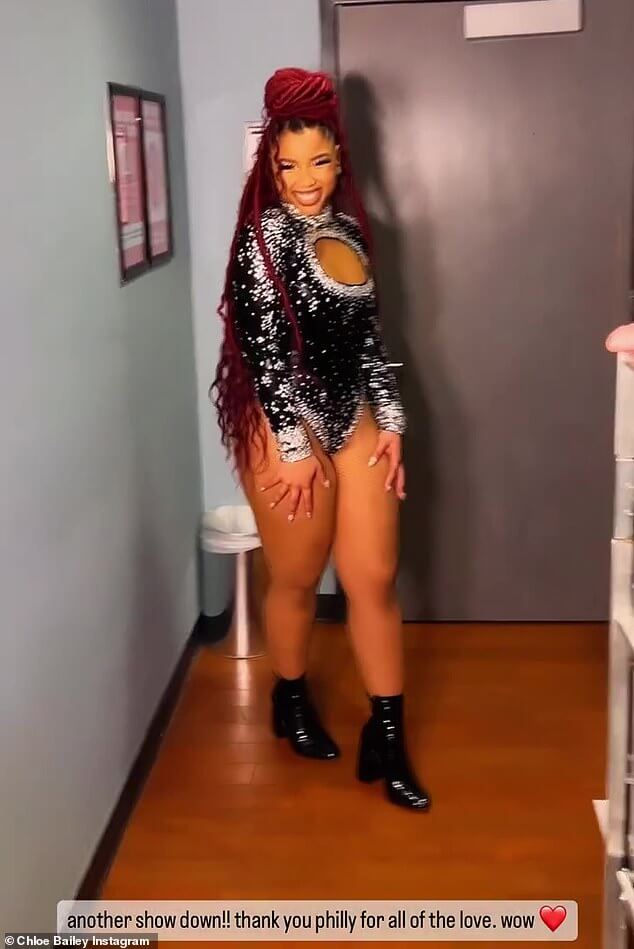 Bailey posed for the pictures while wearing a leather corset-like costume that revealed her trim waist.
The Grammy-nominated singer-songwriter flashed her toned legs in the lower half of her dress.
The vocalist also accessorized with rhinestone-studded sleeves and a head scarf of the same color.
Her black clothing was brightened by the splashes of color provided by the crimson-dyed braids that cascaded down both sides of her breast.
Bailey sported a similarly glittering getup in the footage she posted to her Instagram Story.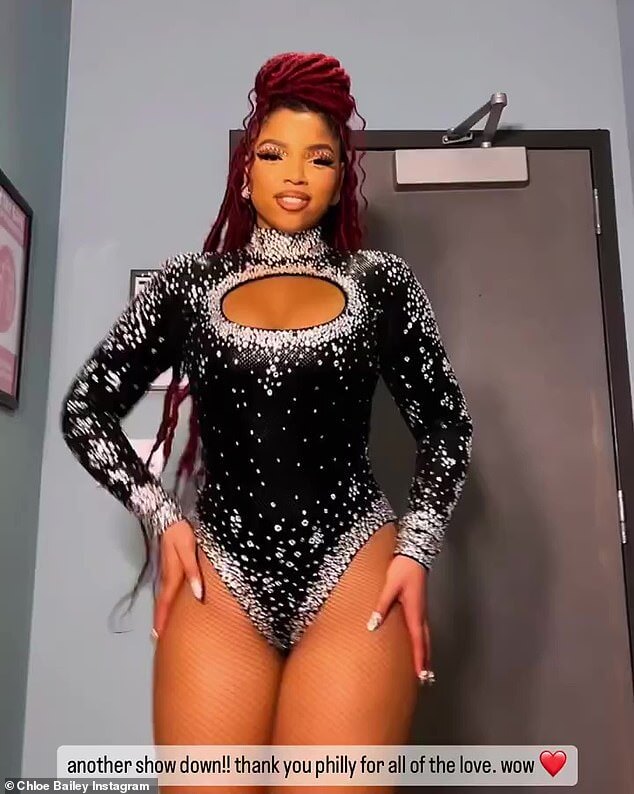 The video recordings were made in a dressing room after her Monday night performance in Philadelphia.
In addition, she illustrated one of her articles with writing that read: 'Another show down! Thank you Philly for all the love. Wow.'
Bailey's first studio album, titled In Pieces, was released on March 31, inspiring the tour of the same name.
In February, Bailey revealed that she would be touring in support of her album.
The run of performances began last Tuesday with a show at the Riviera Theatre in Chicago.
In a recent interview with Rolling Stone, the singer expressed excitement about hitting the road for her next tour.
'As stressful as putting a tour together is, I know I'm going to be the happiest I've been in a minute when the tour takes place,'
'People are coming to buy tickets to see me, and they don't realize how much they're fueling my spirit as well. So it's a nice energy return kind of thing,' she stated.
The hitmaker will wrap up the In Pieces tour on May 3 at the Novo Theatre in Los Angeles.