As the blonde bombshell prepared for a beautiful day at the races, former Countdown host Carol Vorderman ramped up the heat with her latest post.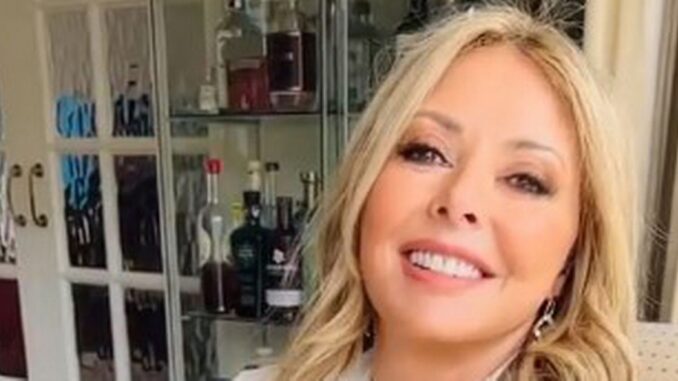 In a tight white costume, Carol Vorderman was crowned "world's most beautiful woman"
The 62-year-old mathematician's 311,000 followers are always interested in her photographs, but her most recent post clearly resounded with her online audience.
She seldom skips a week without posting a new sexy photo to her legion of Instagram followers.
As evidenced by her hot post from last Thursday (March 9), Carol Vorderman continues to captivate with her stunning body.
The blonde bombshell posted an Instagram photo of herself wearing a plunging white jumpsuit at the races.
The ex-Countdown star radiated self-assurance as she showed off her best angles in the figure-hugging outfit.
She topped her one-piece swimsuit with a bulky white coat and wore a camel T-shirt underneath.
Carol finished off her eye-catching getup with a pair of black leather gloves and a gold belt that accentuated her tiny waist.
The mother-of-two stepped up her ensemble with a pair of white stiletto boots and turned her driveway into a makeshift catwalk for her slow-motion promenade.
The TV star stood for the camera, flaunting her honey blonde hair fashioned in beachy waves that cascaded over her shoulders.
With a touch of blush on the apples of her cheeks, she completed her stunning makeup look.
She finished off her makeup by applying a sheer wash of brown eyeshadow to her lids, along with thick coats of black mascara and a brush of sheer pink lipstick.
The TV star said in the post's caption, "SANDOWN RACES GRAND MILITARY GOLD CUP DAY. @sandownparkracecourse with my boy Cameron and the one and only Nigel Hall and my big big buddies @jules_sampson and Air Marshal Sammy Sampson.
"A good day ahead. Thought winter white with a splash of gold seeing as it's Gold Cup Day. Can't wait [magnet emoji, heart emoji]."
Carol's devoted followers were quick to gush over her latest Instagram image, with one person exclaiming, "What an outfit!!?! [shocked emoji, shrugged emoji] Super Trooper."
Yet another person chimed on, "Still the world's most beautiful woman ever [heart emoji]" as a third echoed: "Looking like a wonder woman but hotter [three fire emojis, heart eyes emoji]."
An additional person commented, "Gorgeous outfit Carol, you look absolutely beautiful as always [three fire emojis, three heart eyes emojis]."