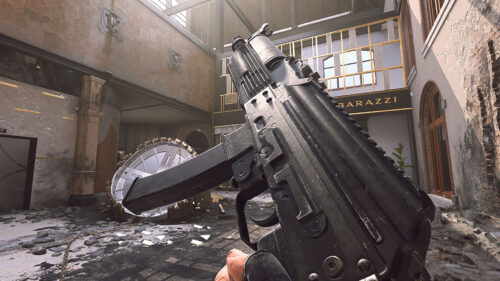 If you want to dominate ranked play in Modern Warfare 2, you'll need the best loadout for the Vaznev-9k elite submachine gun.
Modern Warfare 2 Guide – Best Vaznev-9k loadout for Ranked Play
The build of this SMG can be modified slightly depending on your needs. However, the overall build should remain consistent, especially when competing against other players in Ranked Play for that extra SR.
All of the attachments you require can be found below.
Barrel: None or KAS-1 381mm
Muzzle: Bruen Pendulum
Underbarrel: Agent Grip
Rear Grip: True-Tac Grip
Stock: Otrezat Stock
We'll start with the barrel slot and leave it alone. We don't want to aggravate the Vaznev's damage range any further. However, some players swear by the KAS, which we have listed if you feel you need that fifth attachment in MW2.
Following that, we have our control-based attachment. Recoil control will be aided by both the Bruen Pendulum muzzle and the Agent Grip underbarrel. The Agent Grip, in particular, will improve our hip fire accuracy, giving you an extra accuracy boost as you ADS.
The final two attachments are the True-Tac Grip rear grip and the Otrezat Stock, which we only use for mobility. All Vaznev-9k players are aware that the weapon is ideal for speed, and we want to keep that feature in Ranked Play for Modern Warfare 2.
About Call of Duty: Modern Warfare II
Call of Duty: Modern Warfare II is a 2022 first-person shooter game published by Activision and developed by Infinity Ward. It is the nineteenth installment in the Call of Duty series and a sequel to the 2019 reboot. 
Call of Duty: Modern Warfare II
Developer(s)
Infinity Ward
Publisher(s)
Activision
Writer(s)

Brian Bloom
Eric Anderson
Justin Harris
Matthew Haraza Davis

Composer(s)
Sarah Schachner
Series
Call of Duty
Engine
IW 9.0
Platform(s)

PlayStation 4
PlayStation 5
Windows
Xbox One
Xbox Series X/S

Release
October 28, 2022
Genre(s)
First-person shooter
Mode(s)
Single-player, multiplayer