During the D23 Expo, Marvel Studios unveiled new Ant-Man and the Wasp: Quantumania trailer, including new looks at Paul Rudd's Scott Lang, Evangeline Lilly's Hope Van Dyne, and many others. While the trailer won't be available right away, we have the scoop on what those in attendance saw.
Ant-Man & The Wasp: Quantumania Trailer Debuts At D23 Expo 2022
Paul Rudd, Evangeline Lily, and Jonathan Majors attended the screening to discuss the film, which they described as a "very big movie, very different kind of movie" that "goes right into the Kang Dynasty."
Scott, Hope, and Cassie are seen listening to Scott's audiobook of his memoir, walking the red carpet, and then bailing Cassie out of jail. Cassie appears to be following in the footsteps of both her father and her adoptive grandfather Hank Pym, as she has created a device that sends signals to the Quantum Realm. Everyone, including Hank and Janet, is drawn into the Quantum Realm. Kang imprisons Cassie in order to force Scott to steal something for him. According to the trailer, the film appears to spend a significant amount of time in the Quantum Realms.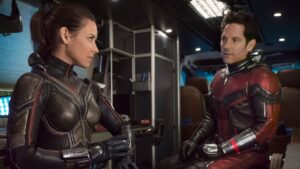 "This is unlike anything you've seen, certainly from Ant-Man and the Wasp," Rudd said. "The first couple of movies are so near and dear to my heart as they are to Evangeline's, and I was so excited to get ready to start this thing. This thing is bananas, and while it seems like a bit of an oxymoron that something so small could do something that's so huge, this is going to be unlike anything you've seen from us, and not to mention, he's incredible, and it throws this whole thing into such new territory. I mean, I'm really excited."
The crew also addressed Rudd's position as People's Sexiest Man Alive, with Rudd saying that "I've met Michael B. Jordan and I know how false the title is… very flattering, and very, very wrong."
The release date for Ant-Man: Quantumania is set for February 16, 2023, and this is just one of many announcements and trailers that were displayed at the D23 expo, which also included a look at some fresh Indiana Jones 5 video.
About Ant-Man & The Wasp: Quantumania
Ant-Man and the Wasp: Quantumania
Directed by
Peyton Reed
Written by
Jeff Loveness
Based on
Produced by
Kevin Feige
Starring

Paul Rudd
Evangeline Lilly
Michael Douglas
Michelle Pfeiffer
Kathryn Newton
Jonathan Majors
Randall Park

Music by
Christophe Beck

Production
company

Marvel Studios

Distributed by
Walt Disney Studios
Motion Pictures

Release date

Country
United States
Language
English