On Tuesday, Amanda Holden dressed in a stylish monochrome outfit and wore a white satin skirt and ditches coat despite the temperature plummeting to single digits.
She showed fans her "outfit of the day" just before the Heart breakfast show, wearing a white satin skirt and ditches coat to showcase her slim figure.
In an all-white outfit, she greeted her fans on Instagram and said: "Good Morning everyone, I feel nice and snug today. We actually put a bit heating on last night.
"I know lots of you are having arguments with your spouses at home, about whether to put the heating on or off."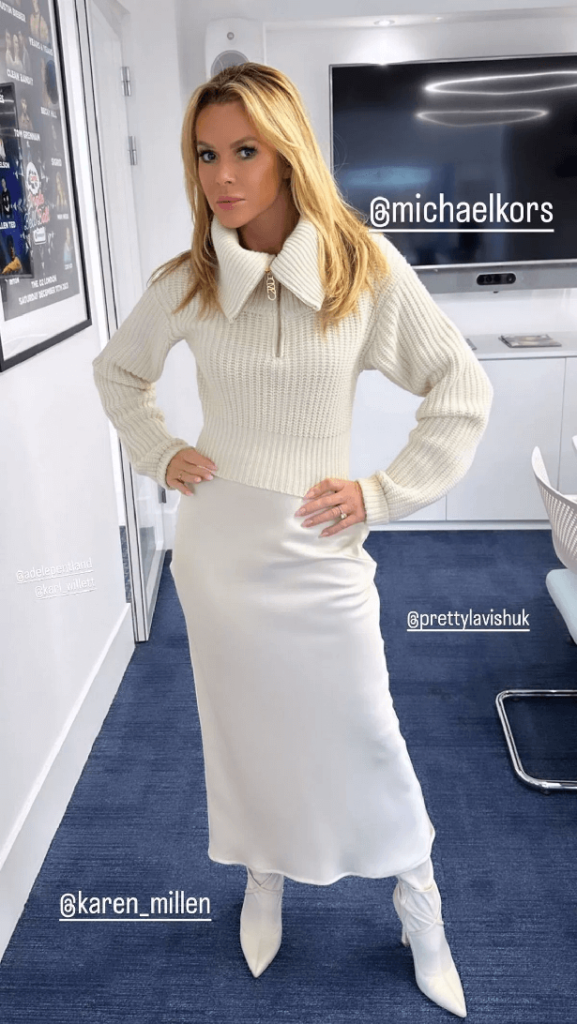 Her fans then asked where she got the ribbed wool-blend sweater, and she replied: "I put a lovely, gorgeous jumper on this morning, this is from Michael Kors. It's got this lovely zip thing, so when I feel too warm, I can unzip it, which is gorgeous."
Taking off the zipper, Amanda revealed a gold-tone necklace featuring a heart.
In front of the camera, she shared: "This very pretty, satin-y skirt is from Pretty Lavish, goes really, really well. That will see me through the winter as well, maybe with longer jumpers.
"And these cute little boots are from Karen Millen. I didn't bring a coat with me."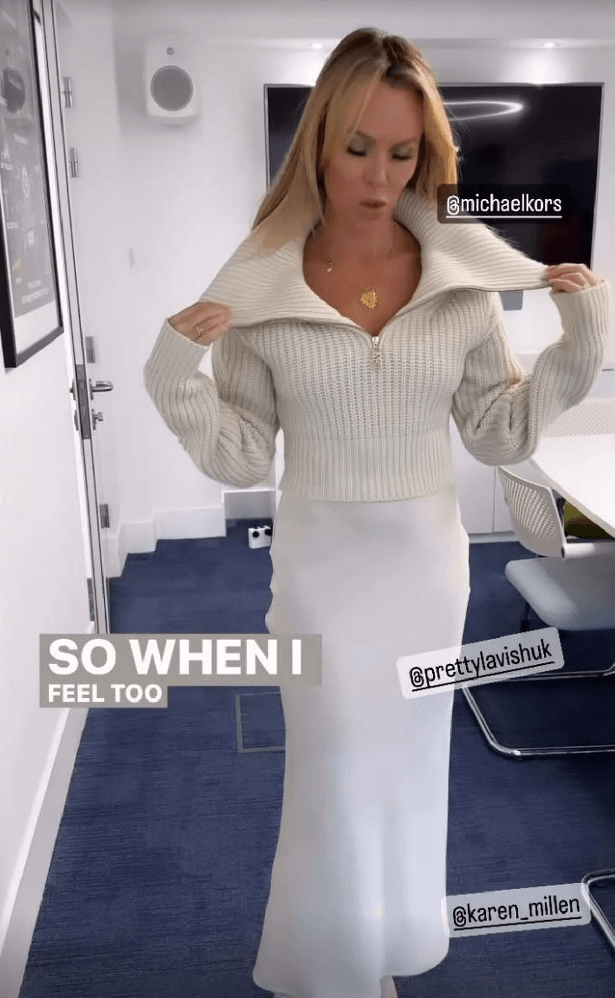 About Amanda Holden :
Amanda Louise Holden (born 16 February 1971) is an English media personality, actress and singer. Since 2007, she has been a judge on the television talent show competition Britain's Got Talent on ITV. She also co-hosts the national Heart Breakfast radio show with Jamie Theakston on weekday mornings.
Holden's first television appearance was as a contestant on the game show Blind Date in 1991. From 2006 to 2008, Holden appeared as Sarah Trevanian in three series of ITV's Wild at Heart co-starring Stephen Tompkinson.