It's been over three years since AEW Fight Forever was announced, but what is its release date? Let's take a look and see what we can find out.
What is the AEW Fight Forever predicted release date?
The release date of AEW Fight Forever has been a constant mystery.
In June of last year, AEW superstar Kenny Omega expressed hope that the game would be released in 2022. After it became evident that this was no longer possible, the game's release date was set for February 2023. According to Wrestle Zone, the February release window is now improbable, and with WWE 2K23 scheduled for March, AEW fans may have to wait longer for the company's debut game.
This is because the game was not given the expected ESRB rating. According to Wrestle Zone, which cited unnamed sources, the game was repeatedly denied a Teen rating because of the excessive violence and bloodshed it featured.
AEW Fight Forever: Xbox Game Pass availability at launch ?
AEW Fight Forever will not be available on Xbox Game Pass at launch, per the game's official Twitter account.
This also seems like a good time to share that we don't anticipate #AEWFightForever being part of any monthly gaming subscription services.

AEW: Fight Forever will be available in store at your favorite retailers or online. Reserve your copy today at: https://t.co/Nv3IuMVxiN

— AEW Games (@AEWGames) November 8, 2022
What is AEW Fight Forever?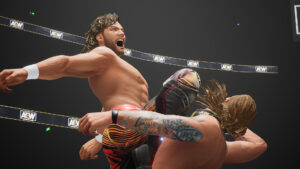 Yuke's, the developers of several WWE games, is currently working on AEW Fight Forever. While we don't have much information on the game yet, the upcoming THQ showcase will show us a lot more of it.
The game is described on the official Steam page as follows:
"Developed by YUKE's Co, Ltd., creators of numerous, multi-million unit selling wrestling games, AEW: Fight Forever combines that nostalgic arcade-wrestler feel with innovative All Elite Wrestling finishers and tandem offensive moves. All Elite Wrestling is currently taking TNT and TBS networks by storm every week with their Rampage and Dynamite shows, featuring some of the biggest legends to enter the ring plus a stable of brand new, high-flying, AEW talent. AEW: Fight Forever brings the best of the best from that talent roster together in one game! Online co-op wrestling is going completely next level in Fight Forever with Tag Team matches that feature sequences of team maneuvers performed with simple commands. A deep career mode, wrestler customization, signature AEW arenas, and more match types than you can count, including some good ol' fashioned, unsanctioned fun, all await!"