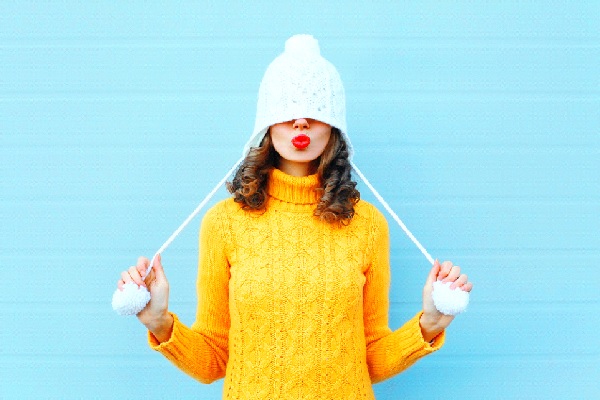 Source: Rohappy /shutterstock.com
Whether it's your mom, your sister, or your best friend, we all have at least one girl in our life who seems always to be cold and loves all things cozy. Her commitment to comfort can be your best inspiration when it's time to choose a gift that she's sure to love. Here, we explore eight of our favorite accessory ideas for the girl who is always cold.
You can rarely go wrong when giving a quality comfy blanket. Blankets are incredibly versatile, and your perpetually cold gal pal can cuddle up on the couch to enjoy an old romantic movie or beat the chill in the stadium bleachers throughout the entirety of football season. Whether you want to celebrate her sophisticated style with a cashmere throw or a more shabby chic vibe with a chunky knit afghan, blankets are almost universally well-received. We love these soft, vibrant faux fur blankets for their heavier weight and full-color printing, and their empowering messaging will warm your girl from the inside out.
Cold hands indicate a warm heart, as the saying goes, but cold feet are just cold feet. One of the simplest, most satisfying ways to get the warm blood flowing is a pair of cozy socks, especially at the end of a long day. Snuggly slipper socks with skid-proof soles are great for puttering around the house on a lazy Sunday. Chenille, wool, or fleece-lined, the options are virtually endless.
And just because warm socks are functional doesn't mean they can't be cute. These over-the-knee cozy socks fit thigh high and pair well with an oversized sweatshirt for the ultimate in loungewear. They're available in several different animal themes for the dog-, cat-, or llama-lover in your life.
If there's a comfier combination than a hot bath and a pair of decadently cozy pajamas, we haven't found it. Pajamas are a great practical gift that can keep your bestie warm while celebrating her unique sense of style. And the right pair of pajamas can melt the stress away at the end of a long day.
You can splurge on a set of high-end, lined satin PJs or keep it on the simpler side with some casual flannel lounge pants. This charming fleece onesie is a trendy take on a childhood classic in a variety of colorful tapestry blanket patterns perfect for a night in by the fire or a grown-up girls' sleepover.
At first mention, a heating pad may seem a little old fashioned or mundane for a thoughtful gift, but there is no better way to achieve targeted warmth, and they've come a long way in recent years in terms of technological innovation and design. This Beautiful Girl Heating Pad is easily heated in the microwave for immediate warmth and pain relief. Its colorful girl-power message will have your girl relaxing in strength, and the lavender scent lends an added element of soothing calm.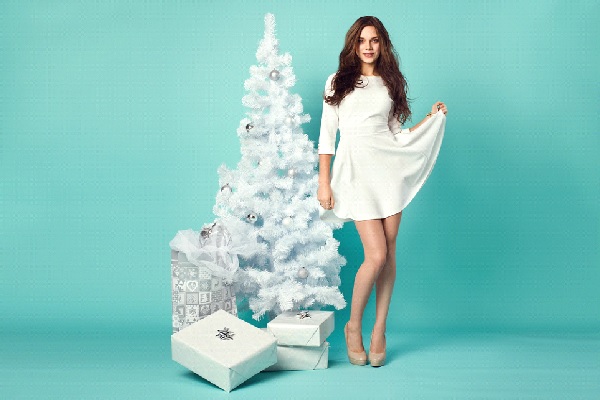 Source: HighKey/shutterstock.com
You needn't be strapped to the couch to keep warm in the chilly months. Consider giving the lady in your life a dress she can wear to stay warm at the office in the fall or to that 8 a.m. class on the university campus.
A casual dress in a traditionally warm fabric like trendy thermal or flannel or a decadent cashmere knit is a great addition to any woman's wardrobe, especially if she isn't a fan of the cold. This versatile mini dress is oversized for a swingy yet flattering fit on any body, and it's warm and comfortable to boot. It can be paired with leggings, warm winter boots, or a fun pair of tights to brave the coldest of temperatures.
Whether your girlfriend's beverage of choice is a strong cup of coffee, a soothing tea, or a classic hot tottie to warm her through and through, you can't go wrong with a mug or tumbler for on-the-go refreshment. These folk-art inspired mugs suit anyone's hobbies or interests, from chickens and sloths to sugar skulls and Russian dolls. This PompomTumbler is too cute to pass up, and the double-wall, stainless steel insulation is guaranteed to keep drinks piping hot.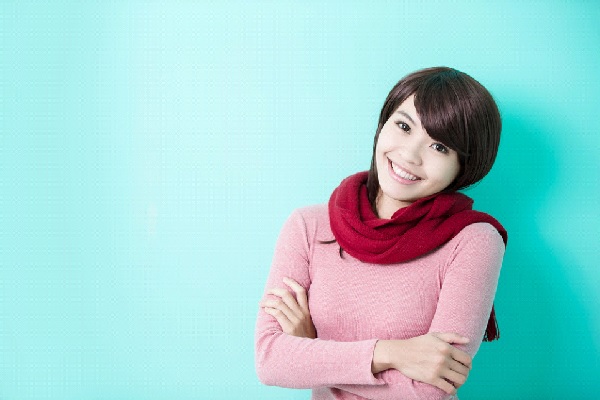 Source: aslysun/shutterstock.com
We can't say enough good things about the resurgence in scarf popularity in recent years. A woman's most versatile accessory, scarves provide endless opportunities to express your style and keep warm while doing it.
A scarf can be worn traditionally around the neck or over the head and can even double as a face mask should the occasion call for it. This scarf, inspired by the tapestry trend sweeping the decorating world, is made of soft, 100% cotton. Its bright print and adorning tassels add a note of whimsy to warmth, it's fashion-forward, and it can double as wall decor or a mini-throw on your favorite cozy chair.
If the woman in your life doesn't have a go-to hoodie in her closet, this is a must-have purchase. The comfort and ease of a favorite hoodie is the perfect combination to warm you up and help you decompress after a trying day. You can surprise her with a classic hooded sweatshirt to support her favorite athletic team or opt for something a little fashion-forward with a cropped velvet hoodie.
Give the Gift of Warmth
Whether you're searching for the perfect holiday gift or just a little pick me up for one of the outstanding females in your life, accessories to warm the body and heart make for practical and thoughtful gifts. And it never hurts to treat yourself to a little extra comfort, either.