The Denver Nuggets and Los Angeles Lakers resume their four-game regular-season series on Friday, December 16th, after splitting their first two meetings in 2022-23.
Update on Anthony Davis and LeBron James' injury status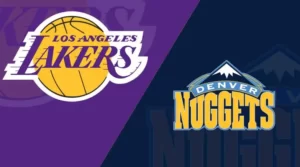 The Los Angeles Lakers (11-16; 11-15-1 ATS) continue to struggle. After snapping a three-game losing streak with a 124-117 road victory over the Detroit Pistons on Sunday, the Lakers were defeated in overtime by the Boston Celtics on Tuesday night.
Anthony Davis (back) is expected to play against Denver on Friday.
Davis will be listed as probable again due to lower back tightness, but he should play. He's been on a roll in December, averaging 40.2 points and 13.2 rebounds in five games this month.
LeBron James (ankle) is expected to play against the Nuggets on Friday.
James has been listed as probable on the Lakers' initial injury report for the majority of the season, and he should be expected to play and take on his typical workload on Friday. He has at least 30 points, five rebounds, and five assists in each of his last two games and should continue to be a top fantasy option.
Wenyen Gabriel (shoulder) will not play against the Nuggets on Friday.
Gabriel, according to coach Darvin Ham, should be considered day-to-day moving forward and is expected to return soon. However, Friday will not be the day because the 25-year-old has already been ruled out of the competition.
His next chance to play will be against the Wizards on Sunday in the first leg of a back-to-back.
The Denver Nuggets (17-10; 12-15 ATS) have won three straight games after losing three straight to Atlanta 117-109, New Orleans 121-106, and Dallas 116-115.
Concerning injury reports: Michael Porter (heel) will miss the Lakers game on Friday.
Porter has not played since Nov. 22 due to a heel injury. He has begun to practice in a limited capacity, but there is no definitive timetable for his return. Porter's next opportunity to play will be against Charlotte on Sunday.