Let's take a look at the injuries that will impact these players in Week 18: Dak Prescott, Teddy Bridgewater, James Conner, and Robbie Anderson.
NFL Injury Report: Latest news on Dak Prescott, Teddy Bridgewater, James Conner, and Robbie Anderson for Week 18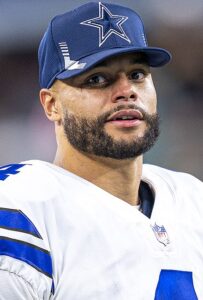 You can read also: Buccaneers' Tom Brady donates to Damar Hamlin's charity
SUMMARY
Teddy Bridgewater
James Conner
Robbie Anderson
Let's get started.
1. Dak Prescott
Update (Jan. 8): Active
Nobody in Dallas believes Dak Prescott's knee injury is serious, but it is something to keep an eye on.
It could be enough to keep him out of Week 18, but it's also something minor, and at the moment, hypertension owner Jerry Jones claims it's all been overblown.
If this is an issue, we'll find out on Wednesday when the Cowboys return to practice.
2. Teddy Bridgewater
Update (Jan. 8): Bridgewater (finger/knee) is listed as questionable for Sunday's game against the Jets by the Dolphins, according to David Furones of the South Florida Sun Sentinel.
Tua Tagovailoa is not on the Dolphins' Week 18 roster, according to head coach Mike McDaniel, but Bridgewater and Skylar Thompson are.
Does this mean Bridgewater's finger will be ready for Week 18? According to NFL reporter Ian Rapoport, Bridgewater will undergo imaging on Monday, so the Dolphins must be pleased with what they see.
If Bridgewater is healthy enough to be the team's starting quarterback, this is a fantastic opportunity for him to lead his team to the playoffs.
Read more: The NFL is reportedly considering several options for the Bills-Bengals game
3. James Conner
Update (Jan. 8): James Conner (shin/knee) has been ruled out for Sunday's game against the 49ers.
Everyone is dealing with something heading into Week 18, and James Conner is no exception, as he is dealing with a shin injury.
After having X-rays on his shin, head coach Kliff Kingsbury said he's day-to-day. His X-rays were negative.
If Conner has any setbacks throughout the week, the Cards have nothing to play for and could be rested.
#AZCardinals head coach Kliff Kingsbury said RB James Conner is day to day with the shin injury.

The head coach added "it was nothing major" and X-rays were negative. pic.twitter.com/8WyYiUCKZw

— Arizona Sports (@AZSports) January 2, 2023
4. Robbie Anderson
Update (Jan. 8): Robbie Anderson (back) is out for Sunday's game against the 49ers, according to Tyler Drake of ArizonaSports.com.
Robbie Anderson left the game with a back injury and was unable to return after playing in 23% of the team's snaps in Week 17.
It's unclear whether Anderson will be able to play in Week 18, but 2022 has been a particularly forgettable season for him.
NFL SCHEDULE 2022 – WEEK 18
Saturday, January 7
Kansas City Chiefs at Las Vegas Raiders 4:30 p.m. ET
Tennessee Titans at Jacksonville Jaguars, 8:15 p.m. ET
Sunday, January 8
New England Patriots at Buffalo Bills, 1 p.m ET
Minnesota Vikings at Chicago Bears, 1 p.m ET
New York Jets at Miami Dolphins, 1 p.m ET
Tampa Bay Buccaneers at Atlanta Falcons, 1 p.m ET
Houston Texans at Indianapolis Colts, 1 p.m ET
Carolina Panthers at New Orleans Saints, 1 p.m ET
Cleveland Browns at Pittsburgh Steelers, 1 p.m ET
Baltimore Ravens at Cincinnati Bengals,
1 p.m ET or 4:25 p.m. ET depending on Week 17 MNF results. If Buffalo wins, the game will be played at 4:25 p.m. ET. If Cincinnati wins, it will be played at 1 p.m. ET.
New York Giants at Philadelphia Eagles, 4:25 p.m. ET
Los Angeles Chargers at Denver Broncos, 4:25 p.m. ET
Arizona Cardinals at San Francisco 49ers, 4:25 p.m. ET
Dallas Cowboys at Washington Commanders, 4:25 p.m. ET
Detroit Lions at Green Bay Packers, 8:20 p.m. ET
Los Angeles Rams at Seattle Seahawks, 4:25 p.m. ET