We've finally arrived at NFL Week 17, also known as fantasy football's championship weekend. Where fantasy football champions and stars are crowned. There were a few key injuries in Week 16 that we'll need to keep an eye on as the week progresses and we get closer to the end of our fantasy campaigns.
NFL Injury Updates: Christian Watson, Tony Pollard, Tua Tagovailoa, and Jalen Hurts for Week 17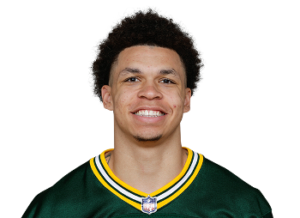 You can read also: Isaac Rochell's contract with the Browns' practice squad terminated
SUMMARY
Christian Watson
Tony Pollard
Tua Tagovailoa
Jalen Hurts
Let's get started.
1. Christian Watson
UPDATE (Dec. 31): Watson (hip) returned to practice Friday as a limited participant and is listed as questionable for Sunday's game against Minnesota.
Reporters caught up with Christian Watson after the Packers Christmas Day game and he said his hip was "OK".
On Monday, head coach Matt LaFleur was asked about it, and he said Watson avoided anything major.
Watson is listed as day-to-day by the Packers, so we'll see if he's practicing when the team takes the field for the first time on Wednesday.
Sounds Christian Watson, Yosh Nijman and Keisean Nixon all avoided significant injuries. Coach Matt LaFleur said they will be "day to day" this week.

— Rob Demovsky (@RobDemovsky) December 26, 2022
2. Tony Pollard
UPDATE (Dec. 31): Pollard (thigh), who is officially listed as questionable for Thursday's game against the Titans, will have to demonstrate his fitness in pregame workouts to avoid being inactive, according to Mike Garafolo of NFL Network.
Pollard, like Derrick Henry before him, appeared on the Cowboys' estimated practice report as a "DNP," but there was no indication he was ever injured after finishing the Cowboys' Week 16 win over the Eagles.
If the Cowboys win on Thursday, it puts pressure on the Eagles to win because Dallas still has a chance to win the division.
We'll see if Pollard participates in Dallas' walkthrough on Tuesday.
Cowboys RB Tony Pollard (thigh) and LB Leighton Vander Esch (neck) did not participate in today's walkthrough practice. DE Sam Williams (concussion) was limited. RG Zack Martin (knee) was a full participant.

Titans RB Derrick Henry (hip) did not practice today.

— Jon Machota (@jonmachota) December 27, 2022
UPDATE (Dec. 31): Coach Mike McDaniel confirmed on Friday that Tagovailoa (concussion) will miss the Patriots game on Sunday.
Tua Tagovailoa was placed in the concussion protocol by the Dolphins despite playing the entire game in Week 16.
He has suffered a concussion for the third time this year. ESPN's Adam Schefter posted a clip of when he believes it happened, and the hit occurred in the second quarter.
After watching some of Tagovailoa's decisions in the second half of Week 16, it would make sense that he was dealing with something.
He'll have until Sunday to clear protocol, so keep an eye on this week's practice reports, but how could any doctor clear him to play after all of his head trauma?
If Tagovailoa isn't cleared to play, Teddy Bridgewater will take his place.
This would seem to be the play on which Dolphins' QB Tua Tagovailoa was injured, when his head bangs the ground. pic.twitter.com/zCQXadHm2r

— Adam Schefter (@AdamSchefter) December 26, 2022
READ MORE: Week 17 Fantasy Injury Reports: Lamar Jackson, Jalen Hurts and Jonathan Taylor
4. Jalen Hurts
UPDATE (Dec. 31): Jalen Hurts (shoulder) is listed as doubtful for Sunday's game against the Saints.
Jalen Hurts has stated that he is day-to-day, so we'll see how the Eagles handle this situation in Week 17.
The Eagles need to win one more game to clinch the NFC East, but with Dallas already having a head-to-head win over them, there's no guarantee they'll win without Hurts.
Will a full week of rest be enough for his SC joint in his shoulder to heal sufficiently to allow him to play? Keep an eye on this week's practice reports.
From @GMFB: Along with the #Eagles situation, the #Commanders also have a QB decision looming following Carson Wentz finishing out the game, while the #Jets are hopeful about QB Mike White's scans on his ribs. pic.twitter.com/YSMkZaJ9w7

— Ian Rapoport (@RapSheet) December 26, 2022
NFL SCHEDULE 2022 – WEEK 17
Thursday, Dec. 29
Dallas Cowboys at Tennessee Titans, 8:20 p.m., Amazon
Sunday, Jan. 1
Arizona Cardinals at Atlanta Falcons, 1 p.m., Fox
Pittsburgh Steelers at Baltimore Ravens, 1 p.m., CBS
Chicago Bears at Detroit Lions, 1 p.m., Fox
Jacksonville Jaguars at Houston Texans, 1 p.m., CBS
Denver Broncos at Kansas City Chiefs, 1 p.m., CBS
Miami Dolphins at New England Patriots, 1 p.m., CBS
Indianapolis Colts at New York Giants, 1 p.m., CBS
New Orleans Saints at Philadelphia Eagles, 1 p.m., Fox
Carolina Panthers at Tampa Bay Buccaneers, 1 p.m., Fox
Cleveland Browns at Washington Commanders, 1 p.m., Fox
San Francisco 49ers at Las Vegas Raiders, 4:05 p.m., Fox
New York Jets at Seattle Seahawks, 4:05 p.m., Fox
Minnesota Vikings at Green Bay Packers, 4:25 p.m., CBS
Los Angeles Rams at Los Angeles Chargers, 8:20 p.m., NBC
Monday, Jan. 2
Buffalo Bills at Cincinnati Bengals, 8:30 p.m., ESPN/ABC