The Seattle Seahawks looks to snap a two-game losing streak when they travel to Los Angeles to face the struggling Rams on Sunday. This is the first time these division rivals have met this season.
Latest news on Cam Akers and Matthew Stafford for Week 13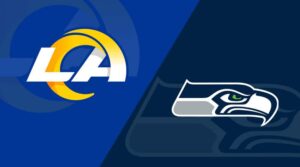 The defending Super Bowl champion Rams' season has gone from bad to worse. They've been decimated by injuries and have now lost 5 straight games, dropping from contenders to also-rans.
Five players have been ruled out for the Rams, including starting quarterback Matthew Stafford and All-Pro defensive tackle Aaron Donald. Three more players are questionable: center Brian Allen, cornerback Troy Hill, and linebacker Ernest Jones.
Cam Akers (illness) is listed as questionable for Sunday's game against Seattle.
Questionable
Ernest Jones (back, limited participation)
Brian Allen (thumb, limited participation)
Troy Hill (groin, did not participate)
Out
Terrell Lewis (back, did not participate)
Matthew Stafford (concussion/neck, did not participate)
Lance McCutcheon (shoulder, did not participate)
Aaron Donald (ankle, did not participate)
Travin Howard (hip, did not participate)
Seattle has dropped two straight games, but the Seahawks remain 6-5 on the season, one game behind San Francisco in the NFC West. As a result, this is a crucial game for the Seahawks.
The Seahawks will travel to Los Angeles to face the Rams with a mostly healthy roster, with only three players listed as questionable and none ruled out or doubtful.
Illness has kept several players out of practice this week, including eight on Thursday, but as of Friday, the only players in question are safety Josh Jones and running back Travis Homer, who is also listed as having a knee injury.
Josh Jones (illness, did not participate)
Travis Homer (illness/knee, limited participation)
Ryan Neal (elbow/shoulder, full participation)