Draymond Green, a controversial member of the Golden State Warriors, predicts that Russell Westbrook will continue to play for the Los Angeles Lakers.
Warriors Star Talks the Lakers Trade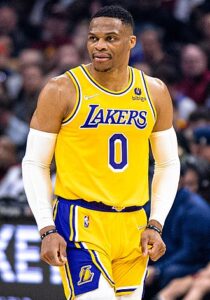 In his most recent "The Draymond Green Show" podcast, Green discussed the persistent rumors that surround Westbrook. On the matter, he had a strong message.
"Stop all the Russell Westbrook talk. That man is a Laker," Green said. "They trying to make it work, and it can work. When you are as great of players as those guys have, it can work, and then adding Patrick Beverley to the floor, you're just going to win more games, that's been proven."
Beverley, a troublesome defender with many attributes that someone like Green, a former Defensive Player of the Year, would value, received praise from him as well.
"All you got to do is watch the teams Patrick Beverley has played on," Green said. "That is a proven fact."
Green has already defended the Lakers' acquisition of Westbrook and praised the former MVP for his contributions.
Although he doesn't believe Westbrook will fit well in Los Angeles, he doesn't criticize the Lakers or LeBron James, who was a major force behind the deal, for acting.
"I 100% think the fit is terrible," Green said on the Checc'n in Podcast in September. "I don't think you could talk to Russell Westbrook right now, and Russell Westbrook wouldn't think the fit is terrible — just, because the fit is terrible, don't mean you don't go for it. Because guess what, if you go for it and it works, then you got a championship."
"They could contend, but they won't beat us," Green told Bloomberg's Lucas Shaw.
Lakers are hoping for a rebound season from Russell Westbrook
The Lakers are prepared to run things back with the divisive point guard to see if he can find a better rhythm with coach Darvin Ham in charge, as Green notes that Westbrook is still sporting purple and gold.
"He's ours, and we love him, and we want him to do well," Ham told reporters prior to the Lakers first preseason game. "I have a plan for him. That plan included him when they gave me the job. So it's been a great camp for him. He's played well. Energy has been through the roof. It's been great."
In 15 minutes, Westbrook had a strong preseason start, scoring five points, dishing out three assists, and pulling down two rebounds.
On Wednesday, he saw a little more playing time against the Suns, scoring 12 points on 4-of-12 shooting and 2-of-4 from outside the arc. He added three assists and six rebounds.
He had a little more action against the Suns on Wednesday, when he scored 12 points on 4-of-12 shooting and 2-of-4 from outside the arc. Westbrook also had six rebounds and three assists.
"He's been a huge presence on the ball defensively, and he's gotten after it: a lot of multiple efforts, in terms of navigating screens and still getting to the player with a contest," Ham said. "He's one of our better athletes still, athletic at an elite level. He's been really, really efficient in terms of his play offensively. And like everybody else, he's putting his money where his mouth is by actually doing what we've been asking."
On Thursday, the Lakers play the Timberwolves as part of their preseason schedule.