Waiver wire picks for Fantasy Football Week 15 include Brock Purdy, Russell Wilson, Baker Mayfield, Mac Jones, and Jerick McKinnon.
Waiver Wire Pickups for Fantasy Football: Brock Purdy , Russell Wilson, Baker Mayfield, Mac Jones and Jerick McKinnon for Week 15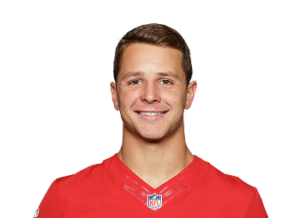 You can read also: Week 15 Fantasy Injury Reports: Christian McCaffrey, Josh Jacobs, PJ Walker and David Njoku
SUMMARY
Brock Purdy
Russell Wilson
Baker Mayfield 
Mac Jones
Jerick McKinnon
Let's get started.
1. Brock Purdy
UPDATE (DEC. 17): Purdy completed 17 of 26 passes for 217 yards, two touchdowns, and no interceptions in Thursday's 21-13 win over the Seahawks. He also gained -2 yards on four rushes.
When San Francisco lost Trey Lance, we thought the season was over. When they lost Jimmy Garoppolo, we thought the season was over.
However, quarterbacks in Kyle Shanahan's offense will be fine. Perhaps even better than fine.
Rookie Brock Purdy defeated Tom Brady 35-7 in his first NFL start, scoring 22 fantasy points and ranking as the week's QB6 heading into Monday Night Football.
Purdy will have an MRI on his oblique on Monday, and there's a chance he won't play on a short week, but his fantasy playoff schedule is one of the best, with games against Seattle, Washington, and Las Vegas coming up.
2. Russell Wilson
UPDATE (DEC. 17): Wilson (concussion) will not play against the Cardinals on Sunday, according to Aric DiLalla of the Broncos' official website.
Last weekend, I sat Russ for the first time, only to have him go off on my bench for 35 points. This week's matchup vs. Arizona is excellent once again, and while the matchup hasn't mattered in the past, I don't want my opponent grabbing Russ even if he doesn't start him.
Wilson may not clear concussion protocol before the weekend, but I'm not going to let him remain on my waiver wire.
He faces Kansas City again in championship week, and if your starter is injured, you'll be willing to take a chance if he scores 35 points again.
If you lost Matt Stafford and are still looking for a replacement, Baker Mayfield could be the simplest answer.
You've probably heard enough about the 98-yard game-winning drive against the Raiders on Thursday night, despite having only 48 hours with the playbook.
Mayfield isn't going to blow up the stat sheet, but if you're in a two-quarterback league, at least we know he'll start.
Read more: Week 15 NFL Injury Update: Cooper Kupp, Kenny Pickett, Kenneth Walker III, Jeff Wilson Jr and Dameon Pierce
4. Mac Jones
This has less to do with Jones and more to do with matchups. Jones is a skilled game manager who doesn't put up eye-popping stats, but he should be able to provide you with a solid floor in the coming weeks as he faces the Raiders, Bengals, and Dolphins.
Jones has completed as a Top 10 quarterback twice this season, both times in easy games (BAL, MIN).
5. Jerick McKinnon
Jerick McKinnon's big day on Sunday was impossible to overlook, as he finished as the RB1 in PPR leagues.
He caught seven of his eight targets for 112 yards and two touchdowns and ran for another 22 yards.
Doesn't that sound like a WR line? Isaiah Pacheco is still the primary running back in this offense, but Patrick Mahomes can throw the ball to any receiver at any time.
McKinnon's 36 routes last Sunday add him to Mahomes' arsenal of weapons, which may or may not pay off big on any given day.
NFL Schedule 2022 – NFL Week 15
Thursday, Dec. 15
San Francisco 49ers at Seattle Seahawks, 8:15 p.m., Amazon
Saturday, Dec. 17 or Sunday, Dec. 18 (Pool games)
Miami Dolphins at Buffalo Bills, TBD, TBD
Baltimore Ravens at Cleveland Browns, TBD, TBD
Indianapolis Colts at Minnesota Vikings, TBD, TBD
Atlanta Falcons at New Orleans Saints, TBD, TBD
New York Giants at Washington Commanders, TBD, TBD
Sunday, Dec. 18
Pittsburgh Steelers at Carolina Panthers, 1 p.m., CBS
Philadelphia Eagles at Chicago Bears, 1 p.m., Fox
Kansas City Chiefs at Houston Texans, 1 p.m., CBS
Dallas Cowboys at Jacksonville Jaguars, 1 p.m., Fox
Detroit Lions at New York Jets, 1 p.m., Fox
Arizona Cardinals at Denver Broncos, 4:05 p.m., Fox
Tennessee Titans at Los Angeles Chargers, 4:25 p.m., CBS
Cincinnati Bengals at Tampa Bay Buccaneers, 4:25 p.m., CBS
New England Patriots at Las Vegas Raiders, 8:20 p.m., NBC
Monday, Dec. 19
Los Angeles Rams at Green Bay Packers, 8:15 p.m., ESPN/ABC