The ultimate week of the 2022 NFL season is upon us, and the Minnesota Vikings head to Soldier Field in Chicago, Illinois, to square off against the Chicago Bears in the NFC North showdown.
Minnesota Vikings at Chicago Bears: Final injury reports for both teams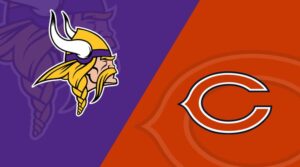 It's time to review the final regular-season injury reports, as both the Minnesota Vikings and the Chicago Bears have provided us with their final lists ahead of Sunday's game at Soldier Field. Let us examine both sides.
Today: Week 18 Injury Reports Patriots – Bills: Josh Allen READY, Damar Hamlin's latest injury status
Chicago Bears Injury Report
Three players already declared out for the Bears after not practicing all week, with three others tabbed as "questionable." Lewis, much like Za'Darius Smith, missed practice on Sunday with an undisclosed personal issue and has been listed as questionable.
Angelo Blackson (Illness) – Questionable
Kyler Gordon (Groin) – Questionable
Terrell Lewis (Personal) – Questionable
Justin Fields (Hip) – Out
Jaylon Jones (Concussion) – Out
Sterling Weatherford (Illness) – Out
Justin Fields has been ruled out of Sunday's season finale against the Vikings due to a strained hip.
With Fields out, Nathan Peterman will take over at quarterback for the Bears. Fields will have completed 192 of 318 passing attempts (60.4 percent) for 2,242 yards, 17 touchdowns, and 11 interceptions in 15 games, in addition to 160 carries for 1,143 yards and eight rushing scores.
Related: The latest injury status of Justin Fields
Minnesota Vikings Injury Report
Brian Asamoah (Knee) – Questionable
Cameron Dantzler (Ankle) – Questionable
Za'Darius Smith (Personal) – Questionable
Garrett Bradbury (Back) – Out
James Lynch (Shoulder) – Out
More NFL: Is Jamaal Williams, Christian Watson RUNNING on Sunday? Injury Update for Lions – Packers
Irv Smith (ankle) was activated off injured reserve Saturday. Prior to suffering the ankle injury in Week 8, Smith tallied 22 receptions for 168 yards and two touchdowns as arguably the team's third option behind Justin Jefferson and Adam Thielen.