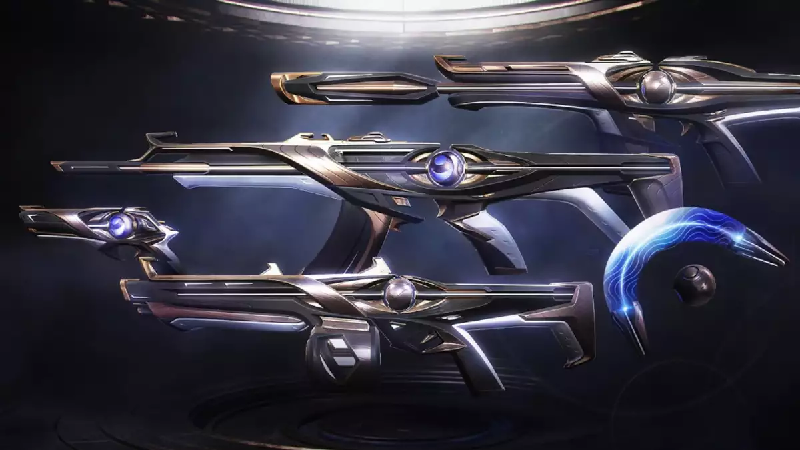 Valorant ChronoVoid skin Release Date and Prices
Valorant ChronoVoid skin pack will be priced at 8700VP and be available in Valorant's in-game Store on Wednesday, September 21, 2022 .
The design of the new skin line is, as Riot says, "magic-tech-esque"
Quoting Riot:
"Throughout the ages, only a chosen few have ever wielded the power of the ChronoVoid. Nations and civilizations have been built, conquered, or even wiped from history with its power. Today, it is a sacred relic that many mistake for magic. What they fail to understand is that it is ancient technology left to its descendants—a reminder of the highest pinnacle of scientific innovation, now lost to time. "
Several weapons will have new skins as part of the package. The weapons are:
Terminus A Quo (melee)
ChronoVoid Phantom
ChronoVoid Sheriff
ChronoVoid Judge
ChronoVoid Vandal
Along with the weapons, players will also get a spray, new card and Gun Buddy designed around the theme of ChronoVoid. Like all other weapon skin packs, new visual updates will be made when players use the pack on their account. Depending on the level, different effects will be in play.
Guns
Level 1 – Custom model; custom ADS reticle; custom bullets
Level 2 – Custom muzzle flash visual effects and firing audio
Level 3 – Custom equip, reload, idle, and inspect animations, effects, and audio
Level 4 – Kill Banner and Finisher

Variant 1 – Green Variant
Variant 2 – Red Variant
Variant 3 – Black Variant
Melee
Level 1 – Custom model, animation, and visual effects
Level 2 – Custom inspect animation, visual effects, and audio

Variant 1 – Green Variant
Variant 2 – Red Variant
Variant 3 – Black Variant
Valorant wiki :
Valorant (stylized as VALORANT) is a free-to-play first-person hero shooter developed and published by Riot Games, for Microsoft Windows. First teased under the codename Project A in October 2019, the game began a closed beta period with limited access on April 7, 2020, followed by an official release on June 2, 2020.
Developer(s)
Riot Games
Publisher(s)
Riot Games
Director(s)

David Nottingham
Joe Ziegler

Producer(s)

Anna Donlon
John Goscicki

Designer(s)

Trevor Romleski
Salvatore Garozzo

Programmer(s)

Paul Chamberlain
Dave Heironymus
David Straily

Artist(s)
Moby Francke
Composer(s)
Jesse Harlin
Engine
Unreal Engine 4
Platform(s)
Microsoft Windows
Release
June 2, 2020
Genre(s)
First-person hero shooter
Mode(s)
Multiplayer