The Minnesota Timberwolves will play the Indiana Pacers in Indianapolis on Wednesday. The game will begin at 7:00 p.m. EST inside Gainbridge Fieldhouse.
Tyrese Haliburton and
Rudy Gobert ACTIVE for Pacers – Timberwolves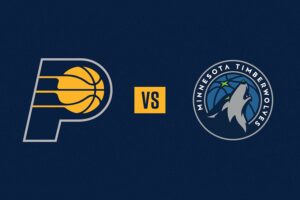 New article: Nikola Jokic and Shai Gilgeous-Alexander injury status for Thunder vs. Nuggets game
Indiana Pacers
The Indiana Pacers are currently fourth in the Eastern Conference standings, just 2.5 games behind the first-place Boston Celtics.
The Pacers are averaging 116.8 points per game and shooting 46.2% from the field. This is the fifth-highest point total per game, but the team shooting percentage is only the twentieth-highest.
Fortunately, the Pacers have shown that they can step behind the three-point line and hit shots. They are shooting 36.9% from three-point range, which ranks them 11th in the NBA.
The Pacers have an adjusted offensive rating of 114.2, which ranks eighth in the league, according to dunksandthrees.com.
The Indiana Pacers have also performed admirably at the charity stripe. They make 80.2% of their free-throw attempts, which is the ninth-highest percentage in the league. They must continue to score free throws if they are to win games on a consistent basis.
Tyrese Haliburton continues to lead the way for Indiana, averaging 20.4 points per game on 49.8% field shooting. He also leads the team in assists with 10.7 per game.
Haliburton finished with 18 points (7-12 FG, 1-5 3Pt, 3-3 FT), four rebounds, and 14 assists in 27 minutes against the Magic on Monday.
Haliburton has been one of the league's best point guards to begin the season, displaying elite value as a passer while also putting up big numbers in the scoring column.
The former Kings guard has five double-doubles in his last seven games and has six double-digit assists in that time. He's averaging 19.0 points and 12.0 assists per game across eight November appearances.
Injury Update for Pacers
Chris Duarte SG (Ankle) is out.
Andrew Nembhard PG (Knee) is questionable.
Daniel Theis PF (Knee) has been ruled out indefinitely.
MORE: Latest news on Bradley Beal and Tyler Herro. Injury reports Heat – Wizards
Minnesota Timberwolves
The Minnesota Timberwolves are currently ranked 10th in the Western Conference, but they are only two games behind the first-place Utah Jazz.
On offense, Minnesota averages 114.3 points per game and shoots 48% from the field. This is the team with the 12th most points per game and the seventh-highest team shooting percentage.
The Timberwolves have an adjusted offensive rating of 110.1, which ranks them 20th in the NBA, according to dunksandhtrees.com.
Anthony Edwards continues to lead the way for Minnesota, averaging 22.1 points per game on 45.6% field shooting. However, the Timberwolves have struggled to consistently shoot from outside.
They are only making 33.2% of their three-point attempts, which ranks them 25th in the NBA. They have also struggled at the free-throw line, where they are only making 78.1% of their attempts.
This is the 18th-highest percentage in the league, as they must capitalize on these free points if they are to win these games consistently.
Gobert had four points (4-4 FT), nine rebounds, two blocks, and one steal in 31 minutes against the Heat on Monday. He did not attempt a field goal.
Gobert received only 11 passes all night. In comparison, Anthony Edwards had the most passes with 87, and Jaylen Nowell had 23 in his nine minutes of action.
Gobert did not attempt a shot on Monday for the first time since 2014. He hit two clutch free throws to help Utah win the game, but his usage is at times perplexing.
Injury Update for Timberwolves
Kyle Anderson, SF (Back), is listed as doubtful for this game.