In the AFC Wildcard Playoffs, the Miami Dolphins (9-8, 3-6 Away) and the Buffalo Bills (13-3, 7-1 Home) will meet at Highmark Stadium in Orchard Park, NY.
Final Injury Reports Buffalo Bills – Miami Dolphins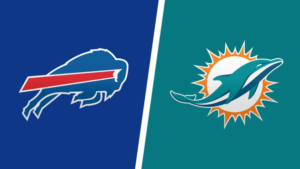 The Dolphins officially ruled out two players on Friday. RB Raheem Mostert (thumb) and QB Tua Tagovailoa (concussion) will not play against Buffalo on Sunday.
More: Injury Reports for Dolphins' Tua Tagovailoa
There was some bad news for the Miami Dolphins on their final injury report before their playoff game at Buffalo, but it wasn't a surprise. There was also some really good news.
The best news was that tackles Terron Armstead and Kendall Lamm were able to practice again, even if it was only for a short time. The final injury report said that Armstead (toe, pec, knee, and hip) and Lamm (ankle) were both questionable.
Liam Eichenberg, a member of the offensive line, was the only other player listed as less than questionable. He didn't practice all week because he hurt his hand.
The only other Dolphins player who didn't practice on Friday was tackle Brandon Shell, who was hurt in his knee and ankle. Shell was listed as questionable for the game.
QB Teddy Bridgewater (knee and right finger), LB Bradley Chubb (ankle and hand), FB Alec Ingold (thumb), and WR Cedrick Wilson Jr. (hip and groin) were also listed as questionable. Wilson was able to do everything at practice on Friday, while everyone else was limited.
The other six players on the injury report this week who weren't on vet rest were all cleared and didn't get a game status: CB Kader Kohou, OT Greg Little, LB Jaelan Phillips, QB Skylar Thompson, WR Jaylen Waddle, and RB Jeff Wilson Jr.
Also worth mentioning is that CB Xavien Howard was not on the injury report for the whole week, which was the first time since the week of the Green Bay game.
Since Eichenberg isn't sure to play, it's likely that Robert Jones will start at left guard again. If both Armstead and Lamm can play, the Dolphins would have to choose between Lamm and Greg Little for the right tackle spot. Robert Hunt would move back to right guard after finishing the Jets game at right tackle, so Lamm or Greg Little would be the starting right tackle.
With Mostert out, it's almost certain that running back La'Mical Perine will be moved up from the practice squad on Saturday.
Related: Will Harrison Smith and Joshua Ezeudu be able to make it on Sunday? Injury Update for N.Y Giants – Vikings
The Bills had five players who didn't practice on Friday, but only two of them were listed as questionable for the game.
One was DT Jordan Phillips, who used to play for the Dolphins and has been hurting his shoulder. The other was WR Isaiah McKenzie, who hurt his hamstring.
Friday was a vet rest day for WR Stefon Diggs and RB Taiwan Jones. QB Case Keenum didn't practice because he was sick.
DB Jordan Poyer was a full participant in practice on Friday. The first two days of this week, he was a DNP and could only do limited work.