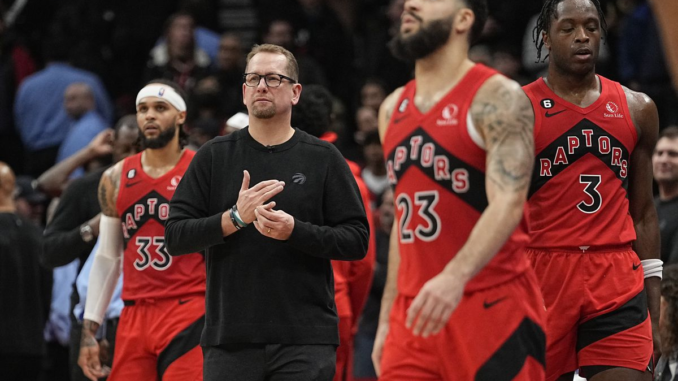 Otto Porter Jr. Undergoes Foot Surgery, Out For Rest Of Season
The Toronto Raptors will be without offseason pickup Otto Porter Jr. for the remainder of the 2022-23 season.
Per TSN's Josh Lewenberg, Porter Jr. underwent surgery on his left foot and will not play again this season. The 29-year-old signed a two-year, $12.4 million deal with the Raptors in free agency after winning an NBA Championship with the Golden State Warriors.
Porter Jr. was limited to just eight games for the Raptors this season. He averaged 5.5 points, 2.4 rebounds and one assist per game. Last season, Porter Jr. averaged 8.2 points per game for the Warriors — helping the organization to its fourth NBA championship in eight seasons.
Having launched in April of last year, Ontario sports betting apps have become widely popular for sports fans in Canada's most populated province. Through these sportsbooks FanDuel, BetMGM and Caesars, residents of Toronto can place wagers on their favorite sports teams and play their favorite casino games such as poker, blackjack, slots and roulette.
2023-24 will be the final season on Porter Jr.'s contract. Depending on where the Raptors finish, Masai Ujiri and company could look to shop Porter Jr. and other veterans on the roster this offseason.
Pascal Siakam Sounds Off On Trade Talk With Deadline Looming
With the Raptors falling well below .500 and closer to the bottom of the standings, it's only natural for top players like Pascal Siakam to get brought up in trade rumors.
In Oct. 2019, Siakam was given a four-year contract extension worth $130 million — four months after leading the Raptors to their first NBA Championship in franchise history.
But with the Raptors likely to miss out on the postseason for the second time in three years, the front office may decide to commence a rebuild. That could mean trading away the franchise star, who's signed through the 2023-24 season.
Following Monday's practice, the 28-year-old Siakam stated that he's not feeling any "concern" over the trade talks with the Feb. 9 deadline right around the corner.
"Literally doesn't concern me," the 2020 All-Star said, per Aaron Rose of All Raptors From FanNation. "What is that gonna get me to worry about what's gonna happen at the trade deadline?
"Unless my phone starts ringing and it's like you're going somewhere, like, that's the only thing. But other than that, I'm here. I'm coming to work every day. And you know, I let the people that do their job do their job."
A player of Siakam's caliber could land the Raptors several pivotal assets for a rebuilding or retooling phase. But he's also just 28 years of age and still in his prime, so Toronto may be better off building the roster around the fan favorite.
Needless to say, it'll be interesting to see how Ujiri and the front office approach the trade deadline in the coming weeks.
Prediction: Raptors Finish 34-48, Miss Out On Postseason
Even if the Raptors decide against trading away top veterans like Siakam ahead of the deadline, it's quite evident that the roster isn't quite deep enough to compete with all the top teams in the Eastern Conference.
Siakam is the team's only consistent scorer. Fred VanVleet has been hot-and-cold all year long, and 2021-22 Rookie of the Year Scottie Barnes is enduring the so-called "sophomore slump."
Toronto had a chance to make noise earlier in the season when playoff contending teams like the Brooklyn Nets, Philadelphia 76ers, New York Knicks and Miami Heat were struggling with consistency.
But those clubs have started rounding into form, and even if the Raptors sneak into the postseason, it's hard to imagine them getting past round one. The scoring depth and defense — once this team's best strength under head coach Nick Nurse — isn't what it used to be.
Through the first 41 games of 2022-23, the Raptors were 18-23. It's hard to imagine them improving much, if at all, given the recent and drastic improvements by several Eastern Conference clubs.
Coming into this season, a reasonable expectation for the Raptors was about 50-53 wins and a top six seed in the Eastern Conference. But things haven't gone according to plan this year, and it's going to take two "play-in" victories just to be a low seed in the playoffs.
There's now just a half a season to go in what has been a frustrating season all-around for the Raptors. The midseason prediction here is that they'll finish with a 34-48 record, which won't be good enough to qualify for the play-in tournament.
Toronto will miss the postseason for the second time in three years, and for just the second time since 2014. It's going to take a drastic midseason trade of some sort to reverse their fortunes, but the front office isn't in a position to make such a move.
For now, the Raptors' best bet is to stay the course with an eye on 2023-24.