After a disappointing season with the Tampa Bay Buccaneers, Tom Brady is set to become a free agent this summer and will be able to choose where he wants to play next season.
Tom Brady may have another chance to join the Raiders this offseason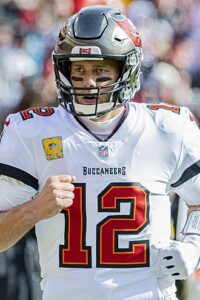 A number of teams were interested when Tom Brady announced his intention to leave the New England Patriots. The Tampa Bay Buccaneers, San Francisco 49ers, Los Angeles Chargers, and Las Vegas Raiders were the four teams he primarily mentioned before settling on the former.
UFC president Dana White later stated that a deal was in the works for both Brady and Rob Gronkowski to join the team, but the Raiders chose to stick with current quarterback Derek Carr.
Now, Derek Carr has almost certainly played his final snaps as a Raiders quarterback, after they benched him to avoid an injury that would make his contract guaranteed, with the expectation that he will be released this summer.
And now, Brady may have another chance to join the Raiders this offseason when he becomes a free agent.
According to Colin Cowherd, citing a post in the Las Vegas Journal: "The reason they sat Derek Carr is so that they can keep him healthy and don't have to pay him. Owner Mark Davis wants a new quarterback.
"They also have Maxx Crosby, Davante Adams, Darren Waller, Josh Jacobs – they want to get the most out of their star players. They are reportedly willing to cut him. I like Derek Carr, I think he's a top 12 quarterback.
"Tom Brady is a free agent. It isn't a perfect fit. He's comfortable with Josh McDaniels, but he's not proven himself as a head coach – they've lost a lot of close games and his decision making has been questionable. The Raiders defence is a mess. Their first draft pick should be a corner and their second should be a safety. It's a mess.
"Their offensive line is fine, not great. They have wholes but they do check the right boxes – they have some good pieces at wide receiver, pass rusher, offensive line. They check all the boxes for Brady."
Brady could return to the Buccaneers, where he is at home and currently resides, while also spending time with his children in Massachusetts and in San Francisco, where his parents live, during the off-season.