James Edward Harden Jr. (born August 26, 1989) is an American professional basketball player for the Philadelphia 76ers. Harden is widely regarded as one of the greatest scorers and shooting guards in NBA history.
Latest Update Injury Status for James Harden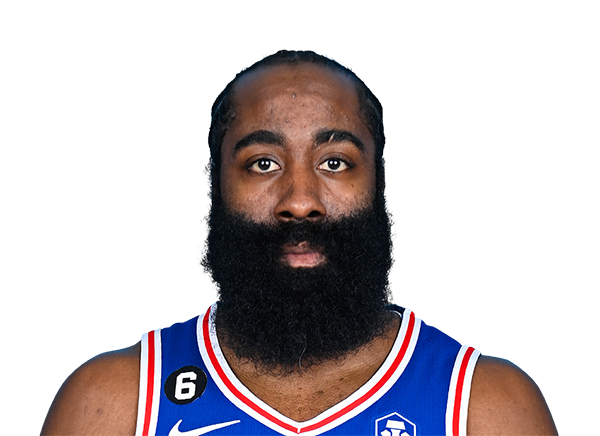 Injury: 
Injury Status: Active
James Harden will play against the Celtics on Sunday's game.
UPDATE (May. 03):
James Harden will play for the Sixers in their game against the Celtics on Wednesday.
In Game 1, Harden tied a playoff career high with 45 points, including a three-point field goal with less than ten seconds remaining to give Philadelphia the lead.
UPDATE (May. 01):
On Monday, James Harden will suit up for the Sixers in a matchup against the Celtics.
UPDATE (Apr. 20):
James Harden will play against the Nets on Thursday's game.
UPDATE (Apr. 15):
According to Justin Grasso of SI.com, James Harden (Achilles/rest) feels "great" ahead of Saturday's Game 1 against the Brooklyn Nets.
Harden missed back-to-back games at the end of the regular season to treat an Achilles injury that had sidelined him for four games at the end of March. His most recent absences, however, were merely precautionary, and the dynamic point guard should be ready for playoff action.
UPDATE (Apr. 09):
James Harden (Achilles/rest) will not play in Sunday's game against the Nets.
UPDATE (Apr. 02):
The Philadelphia 76ers (51-26) earned a 117-110 victory over the visiting Raptors on Friday to pick up its second straight win following a three-game skid.
Joel Embiid and James Harden each put up double-doubles, with Embiid going for 25 points and 12 boards and Harden supplying 23 points with 11 assists.
Harden is one of the leaders in the league. He averages the most assists per game in the NBA, which is 10.9.
UPDATE (Mar. 31):
James Harden is expected to play against the Raptors despite returning to his previous level of health.
UPDATE (Mar. 29):
James Harden (Achilles) is questionable for Wednesday's matchup against the Dallas Mavericks.
UPDATE (Mar. 27):
James Harden (Achilles) is questionable for Monday's game against the Nuggets.
UPDATE (Mar. 24):
Austin Krell of USA Today reports that James Harden's status against the Warriors on Friday is in doubt due to an Achilles injury.
Harden will not play against the Bulls on Wednesday because of Achilles soreness. If the 33-year-old can't go for the 76ers, De'Anthony Melton will start once more.
UPDATED (Mar. 22):
Philadelphia 76ers star Jamas Harden (Achilles) has been ruled out for Wednesday's game against the Bulls.
Harden will be sidelined for the second time over Philadelphia's past three contests due to Achilles soreness.
In his absence, De'Anthony Melton figures to draw another start. Harden's next chance to suit up will come Friday against the Warriors.
James Harden, who is on track to lead the NBA in assists for the second time in his career, had missed two games in March because his foot hurt, and he was healing from an injury.
According to the Sixers' injury report, Harden is dealing with soreness in his left Achilles.
He was sidelined with left foot pain during Philadelphia's March 7 victory over Minnesota. The next game he missed was the March 18 victory over the Pacers, due to his left foot injury.
Harden missed just two of the season's first twenty games because of a strained right foot tendon, an injury that initially sidelined him for a month.
Harden reached 20 points only once in his last six contests, stumbling to a 34.9 percent field-goal percentage over that stretch while averaging just 15.8 points, albeit with 12.7 assists, 7.3 boards, 1.5 threes and 1.3 steals.