The Miami Heat (8-11) stopped the bleeding for the time being, defeating the Washington Wizards (10-8) 113-105 on Wednesday. Miami had previously lost four in a row, and they will now face Washington in round two on Friday, as the Wizards have spent Thanksgiving in South Beach and are prepared for back-to-back meetings with the Heat.
Bradley Beal and Tyler Herro DAY-TO-DAY for Heat – Wizards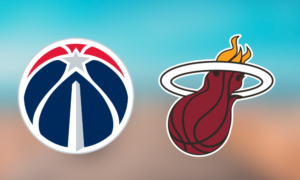 Also read: Is De'Aaron Fox, Jayson Tatum playing Friday's match? Injury Update Celtics – Kings
Beal (quad) is listed as questionable for Friday's game against the Heat.
For what it's worth, Beal was given a questionable label leading up to Wednesday's game against Miami before being ruled out.
If he is unable to play, Jordan Goodwin, Anthony Gill, and Corey Kispert could see increased minutes, depending on the status of injured teammates Monte Morris (ankle) and Rui Hachimura (both of whom are listed as questionable).
Washington Wizards
Who knows how a holiday in South Beach will affect Washington's performance on Friday, which must be considered given that this team is only 3-4 on the road this season.
The Wizards' recent 5-1 homestand was all on a long homestand, but those victories came against some quality teams in Dallas (113-105), Utah (121-112), Memphis (102-92), and the 1-point win over the Heat.
The Wizards lost by eight points on Wednesday, but that's not a bad showing considering they were missing their starting backcourt due to injuries to Bradley Beal (thigh) and Monte Morris (ankle).
Kyle Kuzma led the way with 33 points, while Kristaps Porzingis added 21, but Washington is likely to win if at least Beal is in the lineup. Last Friday, Beal scored 27 points and grabbed 17 rebounds against Miami at home.
MORE: Stephen Curry and Rudy Gay Injury Report for Warriors – Jazz
Herro is questionable for Friday's game against the Wizards due to an ankle injury, according to Ira Winderman of the South Florida Sun Sentinel.
Spin: Herro has been out with an ankle injury for some time and missed eight straight games before returning on Wednesday.
Herro played 29 minutes in that game, and his designation could be due to soreness from using it extensively after a long layoff. On game day, he should have an official status update.
Miami Heat
Sure, Washington only lost by 8 points without their starting backcourt on Wednesday, but Miami was also missing Jimmy Butler (knee), Max Strus (shoulder), and Duncan Robinson.
Butler is questionable for Friday's game despite missing the previous four, while Robinson has missed the last two and Strus has missed the last one.
Kyle Lowry had a season-high 28 points to power the Heat's win over the Wizards on Wednesday. Caleb Martin also had a season high 24 points, indicating that the Heat either have more depth than they thought or that this was a one-of-a-kind performance by both Lowry and Martin.
Bam Adebayo added 15 points and 11 rebounds as he battled Porzingis on the block after missing last Friday's game in Washington due to a knee injury.
Six of the seven Miami players who saw action in Washington last week scored in double figures.
Injury Update for Heat – Wizards
Miami Heat
Dewayne Dedmon (Foot): Game Time Decision
Bam Adebayo (Knee): Game Time Decision
Gabe Vincent (Knee): Game Time Decision
Jimmy Butler (Knee): Expected to be out until at least Nov 27
Haywood Highsmith (Hip): Game Time Decision
Tyler Herro (Ankle): Game Time Decision
Max Strus (Shoulder): Game Time Decision
Duncan Robinso (Ankle): Game Time Decision
Omer Yurtseven (Ankle): Expected to be out until at least Feb 24
Victor Oladipo (Knee): Expected to be out until at least Nov 30
Washington Wizards
Johnny Davis (Groin): Game Time Decision
Monte Morris (Ankle): Game Time Decision
Rui Hachimura (Ankle): Game Time Decision
Bradley Beal (Quadriceps): Game Time Decision
Delon Wright (Hamstring): Expected to be out until at least Dec 14