The Portland Trail Blazers will play the Utah Jazz at Vivint Arena in Salt Lake City, Utah, on Saturday night, as the two Northwest Division rivals continue their four-game regular-season series.
Injury Update Portland Trail Blazers – Utah Jazz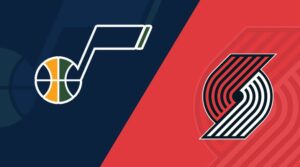 This past Wednesday, the Portland Trail Blazers (11-11; 13-9 ATS) extended their losing streak to three games. As 6-point underdogs, they were defeated by the Los Angeles Lakers 128-109.
Damian Lillard suffered a calf injury in November's five-point loss to the Jazz. Since then, the Trail Blazers have gone 1-5 SU and 2-4 ATS, averaging 109.5 points per game and allowing 119.8.
Lillard is expected to make his return against the Indiana Pacers on Sunday.
Nassir Little will be out for six weeks due to a mild femoral head impaction fracture in his right hip, according to Sean Highkin of RoseGardenReport.com. Little is expected to return to the court in mid-January, according to his recovery schedule.
Josh Hart (ankle) is questionable for Saturday's game against the Jazz.
Hart suffered a left ankle sprain against the Clippers on Tuesday, forcing him to miss the team's most recent game and making him unlikely to play on Saturday.
Friday's games were excluded from this preview, and the Utah Jazz were 5-point favorites against the Indiana Pacers, looking for their second consecutive victory. The Jazz ended a five-game losing streak last Wednesday, defeating the Los Angeles Clippers 125-112 at home.
Rudy Gay was ruled out for at least two weeks on Nov. 17 and will be out again against the Blazers on Saturday. For as long as Gay is out, Simone Fontecchio and Lauri Markanen should continue to see extended runs.
Meanwhile, Mike Conley will have missed seven consecutive games due to a lower leg strain, allowing Collin Sexton to spend more time in the starting lineup.