On Monday night, the Charlotte Hornets will face the Boston Celtics, the Eastern Conference's top team. The game begins at 7:30 p.m. EST.
Is LaMelo Ball, Jayson Tatum playing tonight?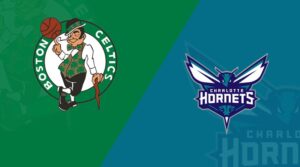 The injured Hornets travel to the Boston Garden on Monday night, hoping to capitalize on a Celtics team that played on Sunday night and is riding the momentum of a close win over the Minnesota Timberwolves on Friday night.
LaMelo Ball (ankle) has been ruled out of Monday's game against the Boston Celtics.
Ball will miss his fifth consecutive game after aggravating an ankle injury that has kept him out for the first month of the season. Dennis Smith (ankle) is also out, so Theo Maledon, Terry Rozier, James Bouknight, and Bryce McGowens are all potential starters.
Meanwhile, Dennis Smith (ankle) has been ruled out of Monday's game against Boston, according to Rod Boone of The Charlotte Observer.
The Boston Celtics extended their winning streak to 12 games with a 130-121 victory over the Washington Wizards on Sunday night at home. Boston won despite the absence of MVP candidate Jayson Tatum, who was resting an injured ankle.
Tatum has been dealing with a sprained ankle recently, and he'll sit out the first game of the Celtics' back-to-back set.
Tatum will miss his first game of the season on Sunday, following a three-game stretch in which he averaged 31.7 points, 10.7 rebounds, and 5.3 assists in 34.7 minutes.
With Tatum out, Grant Williams, Sam Hauser, and possibly Malcolm Brogdon and Derrick White could see increased playing time.