Following a brief break for Thanksgiving, the NBA betting action resumes on Friday, November 25, with a packed 14-game slate. The Utah Jazz head to Chase Center in San Francisco to meet the Golden State Warriors for the first time in 2022-233, so let's take a closer look.
Stephen Curry ACTIVE, Rudy Gay OUT for Warriors vs. Jazz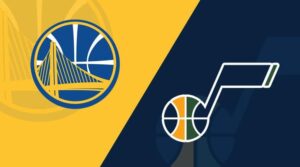 New article: Is Nikola Jokic, Paul George playing today? Final Injury Update Nuggets – Clippers
Golden State Warriors
This past Wednesday, the Golden State Warriors (9-10; 7-12 ATS) easily defeated the Los Angeles Clippers 124-107.
It was their seventh consecutive home victory and third in their last four games overall. The Warriors easily covered a 10.5-point spread, holding the Clippers, who were missing both Paul George and Kawhi Leonard, to 44.8% field goal shooting.
Against Los Angeles, Golden State made 49.5% of its field goals and 37.3% of its 3-point attempts. The Warriors dished out 36 assists and led by as many as 29 points at one point.
Andrew Wiggins scored 31 points on 12-for-18 shooting (6-for-10 from deep) and Draymond Green had nine points, seven rebounds, and 12 assists.
"Steph's going to be Steph, always," Wiggins said. "Tonight, the ball was moving and found a lot of people, made some shots."
Curry had 22 points (9-20 FG, 4-10 3Pt), six rebounds, and nine assists in 32 minutes against the Clippers on Wednesday.
Curry finished second in scoring to Andrew Wiggins, who led Golden State with 31 points. Despite this, the superstar point guard finished second on the team in scoring and assists, while also causing havoc beyond the arc with four three-pointers.
Curry has drained at least three threes in each of his 17 games this season, and he leads the NBA with 88 total threes.
Utah Jazz
The Utah Jazz (12-8; 12-8 ATS) are coming off a 125-116 loss at home to the Detroit Pistons on Wednesday. It was their second consecutive loss and their fifth in their last seven games.
The Jazz failed to live up to their 12.5-point odds, allowing the Pistons to control the game for the entire 48 minutes. Detroit outscored Utah 52-42 in the paint, shooting 49.4% from the field and 12-for-24 from deep.
Last Wednesday, the Jazz forced only seven turnovers. They shot 49.4% from the field and 18-for-41 from behind the three-point line, but it wasn't enough as the Jazz struggled to make stops all night. Utah was led by Malik Beasley, who had 29 points, 11 rebounds, and five assists.
Gay will be out for at least two weeks due to a left finger sprain, according to Andy Larsen of The Salt Lake Tribune.
Read more: Are LeBron James and Anthony Davis playing today? Injury reports Lakers – Spurs
Injury Report for Warriors – Jazz
For Warriors
SG Andre Iguodala (Hip): Expected to be out until at least Dec 2
For Jazz
SG Leandro Bolmaro (Concussion): Game Time Decision
SG Johnny Juzang (Wrist): Expected to be out until at least Dec 7
PG Mike Conley (Lower Leg): Expected to be out until at least Nov 26
SF Rudy Gay (Finger): Expected to be out until at least Dec 2