According to sources, Chloe has been in talks with show executives and could be flown out to South Africa this month for the new series, with the 'perfect islander.'
According to reports, the 2023 winter series of Love Island will feature stunning fashion influencer Chloe Nicole
Tanya Manhenga, a Boohoo model, was the first contestant'revealed' for the upcoming winter edition.
The insider continued: 'She knows Indiyah [Polack], who was on the show last year, through the industry so she would jump at the chance to get in the villa.'
The influencer also has 13k Instagram followers and has previously modeled for PrettyLittleThing and Boohoo. The stunning lady is also a shrewd businesswoman, having graduated from Leicester University last year.
If Chloe is selected, she will join alleged new contestants Chloe Baker, a TikTok influencer, and Tanya, a 22-year-old biomedical science student.
Tanya has worked with brands such as Ego and Simmi shoes, according to The Sun, and she is already represented by the talent agency Muse.
Tanya currently has over 11,000 Instagram followers, whom she keeps entertained with several bikini snaps.
According to a source: 'Tanya really is the whole package, she's a smart as she is stunning and she looks set to be one of this series' most popular Islanders.
'She's an Islander in waiting, already moving in the same circles as former cast members and with brand deals already under her belt.
'But her followers already know she's got a personality to match. This year's cast is a sassy bunch, packed with banter and good chat, and Tanya is set to lead the pack.'
Tanya captioned her Christmas Eve post, perhaps hinting at her upcoming TV appearance: 'The calm before the storm'.
Maya Jama will host the ninth series for the first time, after Laura Whitmore stepped down following the tragic death of former presenter Caroline Flack in 2020.
The South African manor, boasting stunning mountain views and nestled away in the country's'millionaire row,' was revealed last month, according to MailOnline sources.
Love Island producers are said to have spent £1.2 million on a £1.2 million villa where the contestants will compete like Gladiators to win the show's sportiest season yet.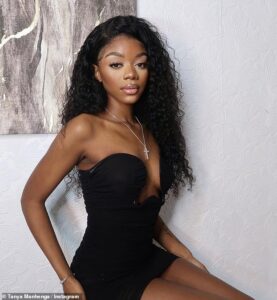 According to The Sun, the South African mansion has a zip line, 400m running track, and rugby and football pitches.
As the winter edition of the show returns after three years, the property will be home to a slew of British singletons.
Meanwhile, Love Island revealed their new duty of care measures for 2023 on Friday, ahead of the series' return to South Africa, and there are some significant changes in store.
Following a contentious summer series, ITV2 will prohibit Islanders from using social media during the show and will provide enhanced training on relationship behavior.
It comes after more than 5,000 Ofcom complaints about 'misogynistic behavior and bullying' were lodged against Love Island last year.
ITV has now stated that a comprehensive package of welfare measures for programme contributors remains in place to ensure stars are fully supported before, during, and after the filming period.
Participants will be asked to pause handles and accounts on their social media platforms for the duration of their time on the show as part of extended measures to protect both the Islanders and their families from 'the adverse effects of social media'.
According to reports, the Winter Love Island series will premiere on Monday, January 16.