Following a rocky season, rumors about Sean McVay stepping down as head coach of the Los Angeles Rams have begun to circulate.
McVay's possible reason for leaving Los Angeles has been revealed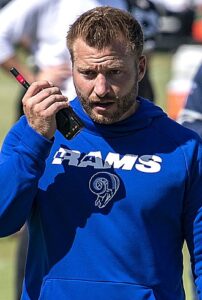 The Rams finished the season 5-12 after a 19-16 loss to the Seattle Seahawks in Week 18. As speculation about McVay's departure grows, Mike Florio of Pro Football Talk speculated on why the Rams' head coach would leave.
"There's a growing sense that he will (step down)," Florio said. "My understanding is it's not because of burnout or he wants to get into TV. He won a Super Bowl and now he's facing a multi-year rebuild that he doesn't want to be apart of."
After taking over as head coach of the Rams in 2017, Sean McVay made an immediate impact. He had previously led the Rams to an overall record of 55-26.
Los Angeles won the NFC Championship in 2018 before taking home the Super Bowl in 2017. McVay was named NFL Coach of the Year.
However, Los Angeles is now in a difficult situation. Matthew Stafford's season was cut short due to neck and spine injuries. While Stafford is adamant about returning, he is now 34 years old and will be coming off a major injury. The Rams also have the 23rd most cap space in the league and do not own the first round pick in the 2023 NFL Draft.
McVay is reportedly being pursued by a slew of television networks. However, it is the Rams' impending rebuild that could force McVay to leave.