Not too long ago, Zach LaVine seemed to have already made plans to leave.
It's not too late to make a deal involving Zach LaVine!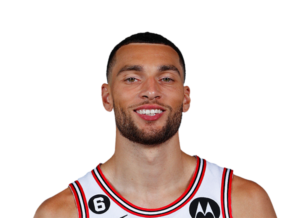 The Chicago Bulls, who are currently 25-27 and in the ninth spot in the Eastern Conference, should learn a lot this week.
If Chicago makes the playoffs, it will be with a roster that isn't particularly strong but is still respectable. At this Thursday's trade deadline, some fans are wondering if the team will completely revamp its roster.
Despite being one year into a 5-year contract Zach LaVine signed last summer, Chicago's front office has maintained that guard will not be traded.
The 27-year-old had a rocky start to the season with the Chicago Bulls, during which his dedication was questioned. To the point where discord between Zach and his Bulls teammate was rumored to be brewing.
There is still a chance that LaVine will be traded or released from the Chicago Bulls before the NBA's February 7 deadline. Some in the NBA, according to Action Network's Matt Moore, think the Bulls will make the two-time All-Star available for a trade in the next few days.
"The Bulls would demand star assets back in a trade for Zach LaVine, but he isn't considered 'off the table' by other teams," Moore wrote.
Notably, Jamal Collier of ESPN reports that rumors are circulating in the NBA that the Bulls "have shown little interest" in trading for LaVine.
Three NBA teams have been named as being interested in making a move for Zach LaVine: the Los Angeles Lakers, the New York Knicks, and the Dallas Mavericks.
Even though the Bulls are in no hurry to trade LaVine before Thursday's deadline, it's clear that he's not an untouchable commodity. At the right price, maybe the Bulls can be convinced.