By reworking a contract, the New Orleans Saints have freed up some salary cap space. Could this make it easier for the team to get Derek Carr?
The Saints' latest move to save money on their salary cap could make room for Derek Carr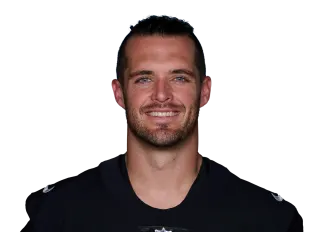 Before the end of the 2022 season, the Las Vegas Raiders showed that they were ready to move on from quarterback Derek Carr by putting him on the bench for their last two games.
Carr was set to make more than $40 million by February 15, so the Raiders let him out of his contract and made him a free agent. This means that he can sign with any team he wants.
Carr is a big name among free agent quarterbacks. It's not often that a four-time Pro Bowler who has played nine healthy seasons for the same team enters the market without any problems.
ESPN's Field Yates said on Monday that the New Orleans Saints turned $10 million of center Erik McCoy's pay for the 2023 season into a signing bonus. By doing that, the Saints were able to add $8 million to their salary cap.
The Saints have converted $10M of C Erik McCoy's 2023 compensation into a signing bonus (while adding a void year), creating $8M in cap space, per source.

— Field Yates (@FieldYates) February 20, 2023
Was this a way to make room for Carr on the cap? It is hard to say. It could just be a way for them to get ready for March 15, 2023, when the new season of their league starts.
Carr was able to go to the Saints' building when he was still under contract with the Raiders. This trip turned into a two-day visit with the NFC South team.
Both the Saints and the Raiders had already agreed on the terms of a trade. All that was left was for Carr to give the trade the green light. Carr reportedly turned down the offer, but that doesn't mean he doesn't want to play for the Saints. Instead, this choice let him become a free agent.
The only quarterback the Saints have signed on for next year is Jameis Winston. He was the starting quarterback in 2021, but he got hurt early this season and was replaced by Andy Dalton.
Even though the Saints are interested in Carr, they are not the only team that is. This past weekend, Carr went to see the New York Jets. Jeff Darlington of ESPN said on Monday that the visit was "very positive and went well" and that the Jets "really believe" Carr is the quarterback who can lead them to a championship.
Darlington says that the Jets are also looking at Aaron Rodgers, who hasn't decided if he wants to stay with the Green Bay Packers, play for another team, or retire.
Update: The #Jets "really believe" that former #Raiders QB Derek Carr is the type of quarterback that can lead them to a championship, per @JeffDarlington on @GetUpESPN

Carr's meeting with New York was "very positive and went well."

They feel like he's a "great player." pic.twitter.com/TFLRb7QmWj

— Dov Kleiman (@NFL_DovKleiman) February 20, 2023
Video of the segment with the report by @JeffDarlington pic.twitter.com/dmEi7uWeSF

— Dov Kleiman (@NFL_DovKleiman) February 20, 2023
Carr is expected to take his time and meet with as many possible suitors as he can, said his older brother David on NFL Total Access on Monday.
"It's gonna be a long process," David Carr said.
"He wants to do his due diligence and see as many places as he can to get a feel for what the best place for him will be."
Carr should still be at the height of his powers, with plenty of time left before he starts to show the effects of aging.