The first time we saw Leonardo and Eden together was on January 31 at the EP release party for Ebony Riley. The Oscar-winner was seen enjoying the event alongside the Parisian model.
Titanic actor Leonardo DiCaprio is rumored to be dating a much younger model, Eden Polani
Eden is a social media sensation with 195,000 Instagram followers and a modeling contract with IT models.
Either way, the star who's known for dating younger models was dragged on Twitter.
Someone noticed: 'Kate Winslet was 22 when she was nominated for an Oscar for Titanic. Which is 3 years older than Leonardo DiCaprio's current girlfriend.'
'Leonardo DiCaprio's new girlfriend wasn't even born when Titanic was released.'
People had written about how she was a student when Leo was already famous in Hollywood.
'Someone please explain to me what a man nearing 50 has in common with *checks notes* a 19 year old?'
'Leonardo DiCaprio is only worried about climate change because he wants to leave a better world for his girlfriends.'
'DiCaprio's girlfriend is so young she probably studied the Romeo and Juliet film he starred in when she was at school.'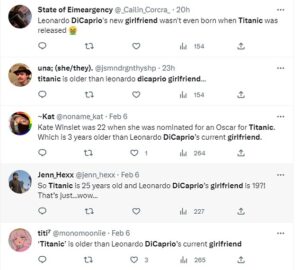 'Leonardo DiCaprio's new girlfriend is so young that her high school education was interrupted by COVID-19, weirrrrrrrd.'
'Somebody needs to stop leonardo dicaprio. It was funny 10 girlfriends ago.'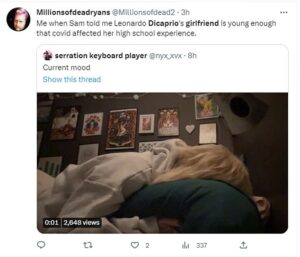 The Once Upon A Time In Hollywood actor wore his usual casual attire to the party, but he did not wear a mask.
He hid his head under a plain black baseball cap and wore a cool black bomber jacket over an unremarkable black tee and black jeans.
Eden, who is strikingly similar to Leo's new flame, wore a gray pinstripe suit and a simple white blouse for a modern look. Her long red hair was falling to her shoulders, and she adorned herself with a gold chain.
Leo was seen smiling gently next to Eden, clearly having a good time at the crowded party.
He was reportedly last seen in public with Lamas in late December, but it is not known if their relationship is still going strong.
His most recent yacht trips have been with other women, and he recently had a great time watching the Los Angeles Lakers with his friends.