The Kansas City Chiefs are rumored to be interested in signing former Los Angeles Rams star Odell Beckham Jr., who is currently without a team after winning the Super Bowl in Los Angeles last season.
Will Odell Beckham Jr. sign with Kansas City Chiefs?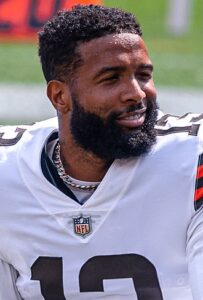 Odell Beckham Jr. continues to be without a team, but despite being speculated to sign with the Kansas City Chiefs, he's been spotted going back to the New York Giants site.
He has been sidelined since facing another torn ACL in the second quarter of last season's Super Bowl against the Cincinnati Bengals.
The wide receiver only signed with the Rams last year after being released by the Cleveland Browns, and he was expected to re-sign.
Although that is still a possibility, Beckham Jr has been tipped to make another move, though Sean McVay may be stepping up his efforts after another poor performance by the Rams.
However, ESPN experts Dan Graziano and Marcus Spears believe Beckham Jr will sign with the Chiefs.
Spears stated on ESPN's Get Up show that the Chiefs should sign Beckham Jr because "they need a closer at the wide receiver spot." This team appeals to me, and we all know how talented Patrick Mahomes is.
But when it comes to high-stakes games, which is where they're going, it's about having the man rather than some concept Andy Reid can dial up.
"Beckham Jr will open up things obviously, and he will add and increase their run game. I think this is his best chance to win another ring, but I also think he can come in and increase an offence that just put up 41 points against the Bucs."
About
Odell Beckham Jr.
Personal information
Born:
November 5, 1992
Baton Rouge, Louisiana
Height:
5 ft 11 in (1.80 m)
Weight:
198 lb (90 kg)
Career information
High school:
Isidore Newman School
(New Orleans, Louisiana)
College:
LSU (2011–2013)
Position:
Wide receiver
NFL Draft:
2014 / Round: 1 / Pick: 12
Career history

New York Giants (2014–2018)
Cleveland Browns (2019–2021)
Los Angeles Rams (2021)

Career highlights and awards

Super Bowl champion (LVI)
NFL Offensive Rookie of the Year (2014)
2× Second-team All-Pro (2015–2016)
3× Pro Bowl (2014–2016)
PFWA All-Rookie Team (2014)
Paul Hornung Award (2013)
First-team All-American (2013)
First-team All-SEC (2013)