On Wednesday night, the Denver Nuggets face the Oklahoma City Thunder in a divisional matchup. On Tuesday, the Nuggets were defeated at home by the Pistons. The Thunder were defeated at home by the Knicks on Monday night. The Nuggets are 2-0 in the season series.
Final injury reports Oklahoma City Thunder – Denver Nuggets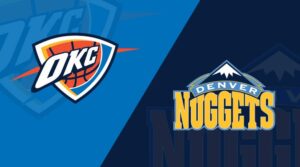 The busy schedule of the Nuggets continues. This is their third game in as many nights. Denver had lost two of their previous three games entering Tuesday night.
Nikola Jokic returned to the lineup on Tuesday after missing the previous two games due to health and safety concerns.
The 27-year-old MVP is having yet another dominant season. Jokic averages 20.8 points per game and 9.5 rebounds per game. He had 15 points, 13 rebounds, and 14 assists in a win over the Thunder earlier this month.
With Jokic back in the lineup, DeAndre Jordan is likely to return to the bench.
Ish Smith (calf) will not play against the Thunder on Wednesday.
The veteran will miss his ninth consecutive game. Smith hasn't played since logging eight minutes against the Lakers on Oct. 30.
The Thunder return home for the second of three games. They had a competitive road trip in which they defeated the Knicks and Wizards, but they were unable to maintain momentum as they were labeled 1.5-point favorites in a 129-119 home loss to the Knicks on Monday night.
Gilgeous-Alexander had 30 points (9-22 FG, 0-2 3Pt, 12-13 FT), five rebounds, seven assists, one block, and one steal in 35 minutes against the Knicks on Monday.
Gilgeous-Alexander rebounded from a sloppy 15-point performance in Memphis on Saturday, shooting 6-for-18 from the field in a 121-110 loss.
The Kentucky product shot efficiently and stuffed the stat sheet on Monday night, extending his streak of games with a block to nine while also contributing on the glass and in the passing game.
Aleksej Pokusevski (ankle) has been ruled out of Wednesday's game against the Nuggets.
Pokusevski will miss his second straight game due to a sprained left ankle suffered against the Grizzlies on Friday. Pokusevski's next opportunity to play will be against the Bulls on Friday.
Meanwhile, Mike Muscala, who has a broken left pinky finge,