The Golden State Warriors are on the cusp of the playoff race as the trade deadline approaches, but insiders believe the team will make no major moves.
The Warriors are likely to retain James Wiseman and Jonathan Kuminga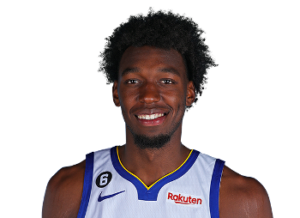 The Warriors have mostly survived Steph Curry's absence, which began on December 14 with a shoulder injury that has kept him out of the last 11 games. During that time, the Warriors have gone 6-5, keeping them in contention in a crowded Western Conference.
But, according to FanNation NBA insider Brett Siegel and San Francisco Chronicle reporter C.J. Holmes, the Warriors will resist the temptation to trade some of their promising young players for an immediate boost, instead keeping the roster intact for the rest of their title defense season.
According to Siegel, the Warriors are unlikely to make any trades as the deadline approaches. That means the team's promising young players James Wiseman, Jonathan Kuminga, and Moses Moody will not be leaving.
"Based on the information I have and have gathered, it seems like this organization and front-office is more than willing to sit back and watch other teams make moves unless they get an offer that they cannot refuse," Siegel said. "It just does not feel like James Wiseman, Jonathan Kuminga or Moses Moody are available right now."
"Based on what I am hearing, I don't envision them making any moves," Holmes said. "I don't think they are ready to give up on James Wiseman yet. They have seen the slow progress he has made and Bob Myers' two-timeline plan is still alive and well. They are riding this thing out."
The Warriors are confident in their own player development staff, according to Holmes, and believe Wiseman can fulfill the potential that landed him as the No. 2 overall pick in 2020.
Steph Curry's injury may benefit the Warriors.
The injury that has kept Curry out for nearly a month, according to Holmes, may have a silver lining. In his absence, the Warriors have been able to give more responsibility to their younger players and provide them with valuable playoff experience.
"I think come playoff time, Wiseman is going to be a factor. Moody is always ready as well," Holmes said. "These Curry and Wiggins injuries might have been a blessing in disguise because it gave the Warriors a chance to really see what they have."
The Warriors may not be able to go much longer without Curry. In an interview with 95.7 The Game, general manager Bob Myers stated that the two-time league MVP was being re-evaluated this weekend and could rejoin the team on their upcoming road trip, which begins on January 13 against the San Antonio Spurs.
Bob Myers gave a HUGE Steph Curry injury update via @SteinyGuru957 👀🙏 pic.twitter.com/KeabLsryIp

— 95.7 The Game (@957thegame) January 4, 2023
"That would be a hope. I mean, that will be what we'll be shooting for," Myers said. "He's been, not contact, but out there doing all this stuff, and he looks like the same guy. He's got a sleeve on his shoulder and his arm, but that would be the plan. We've got to see what he looks like this weekend."