Pete Alonso, the Tampa native holds his first charity home run derby at his alma mater, Plant High, the day after signing a contract with the Mets.
Pete Alonso has never forgotten that his dream career began in Tampa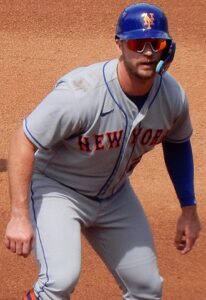 The former Plant High and Florida star broke a major league record on Friday. Before the arbitration deadline, he reached an agreement with the Mets on a one-year, $14.5 million contract, the largest sum ever awarded to a first baseman through the arbitration process.
The 28-year-old Alonso made these remarks while standing on the Plant field on Saturday before hosting his "Battle for the Bay," describing the contract as the kind of thing he could only dream about while belting home runs for the Panthers.
"(Friday), it was really special. As a young kid, thinking back on it, I never thought that that would be a possibility. I mean, it was a dream, " the two-time home run derby champion said. "As a young kid, you … just want to get (to the majors), and then once things start to become more of a reality, then it's like 'OK, this is this is real. This is real.'
"So, it's a really special moment, and I had to go out and perform, but also at the same time, I feel blessed."
On Saturday, he convened the best baseball and softball players in the area for a home run derby to benefit his charity. Each year, grants will be distributed by the city of Tampa on behalf of the Pete Alonso Foundation. One of the first organizations to receive funding is the West Tampa Little League, in which Alonso participated as a child. Alonso has expressed an interest in ensuring that young players' first encounters with the sport are pleasant by advocating for secure playing surfaces. New, long-term home bases will be built for Plant.
"Tampa is just a super-baseball-rich city," he said. "Baseball is within the fabric of Tampa's history. And the game means a lot here, and to be able to give back with a baseball activity, it just fits.
"I'm just really excited because these kids are going to be super excited to participate and perform. Tampa, it's one of those hotbeds in the country where you get the best baseball talent from any age."
Alonso drew from that hub on Saturday, hosting a home run derby with Astros outfielder Kyle Tucker (also a Plant alum), Red Sox infielder Christian Arroyo (a Hernando High alum), and Angels third baseman Gio Urshela (who still spends offseasons here after his time with the Yankees). Alonso won the derby, sending two balls into the parking lot to the delight of the hundreds of children, parents, and baseball fans in attendance. Other competitors included former Rays player and current MLB Network analyst Carlos Pena and former Cleveland infielder Travis Hafner.
Alonso is on the baseball team with arguably the most intriguing ownership and the most intriguing offseason. After signing pitcher Justin Verlander and nearly agreeing to terms with free agent shortstop Carlos Correa, the Mets' billionaire owner Steve Cohen blew past the salary cap.
"I didn't really have any input," Alonso said. "I mean, I just kind of sat back and just kicked my feet up and watched (Cohen). I thought we have some great players that are on the roster, and I think that making some new additions was awesome.
"I think that we have a great core of kids. We have great talent. And I feel like we made some really positive additions. So it's going to be really exciting."
Alonso wouldn't say whether he's in talks for a new contract. In 2025, he'll be a free agent and able to sign with any team. He thinks he's in a prime position to make more history until then.
"I feel like we're on the brink of something extremely special," he said. "And I know that we don't just want to win one (championship). We want to win multiple championships. And in order to do that, we've got to perform. We definitely have the talent to be able to do that."