The Orlando Magic is on the road, traveling to face the Brooklyn Nets on Monday night. The Magic lead the series 68-55, but the Nets won three of four meetings last season, including a 150-108 road win on March 18, 2022.
Are T.J. Warren and Kevin Durant JOINING vs Magic?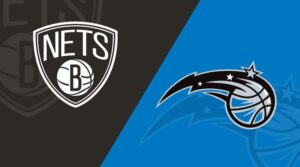 Brooklyn Nets was defeated by the Pacers on the road for the second time in three games on Friday night. The Nets come into this game 9-11 and in last place in the Atlantic Division, 6.5 games behind the Celtics for first place.
Durant had 31 points (12-20 FG, 3-6 3Pt, 4-4 FT), five rebounds, and five assists in 37 minutes against the Trail Blazers on Sunday.
Durant scored 11 of his 31 points in the third quarter and played the entire 12 minutes. It was his second 30-point game in a row, and the ninth time he'd scored 30 points in 21 games this season.
While the 34-year-old is hitting 53.4 percent of his shots, he is only hitting 33.3 percent of his three-point attempts this season. Sunday's three made shots from beyond the arc tied his season high.
T.J. Warren will be making his first appearance in an NBA game since Dec. 29, 2020.
The veteran wing showed out at the NBA bubble in Orlando during the restart of the 2019-20 season while playing for the Pacers, but it's unclear if he'll be able to return to that level of play after undergoing two different surgeries to address stress fractures to his left foot.
He'll likely be under a strict minute's limit and will presumably be available for one half of back-to-back sets in his initial action with Brooklyn.
Orlando Magic was defeated at home by the 76ers on Friday night and will face them again on Sunday in the first half of their back-to-back set. The Magic were 5-14 and in last place in the Southeast Division, six games behind the Hawks for first place.
Wendell Carter (foot) will not play on Monday.
Carter will miss his fourth game in a row due to a strained right foot. In his absence, Mo Bamba, Moritz Wagner, and Bol Bol should continue to grow in prominence.
Markelle Fultz has recently returned to full practices and appears to be on the verge of making his season debut, but he'll be out for at least one more game.