On Monday, the Houston Rockets travel to Denver for the first of two games against the Nuggets. The Rockets have a 5-14 record, while the Nuggets have a 12-7 record. The Nuggets have won six straight games against the Rockets, including three last seasons.
Will Nikola Jokic continue to shine?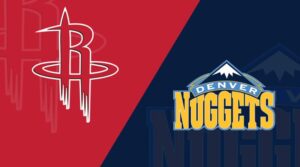 The young Houston Rockets are riding a two-game winning streak into this game. They defeated the Hawks 128-122 on Friday night before defeating the Thunder 118-105 on Saturday. The Rockets' record is now 5-14. They trail the Pelicans in their division by six games and are ranked last in the Western Conference, eight games behind first-place Phoenix.
Bruno Fernando returned after a 15-game absence. The Rockets are most likely resting Fernando for the second night of a back-to-back, and he should be fine for Monday's game against the Nuggets.
With a 12-7 record, the Denver Nuggets lead the NBA's Northwest Division. They are a game ahead of the Blazers. The Nuggets are one game behind the Phoenix Suns in the Western Conference. The Nuggets are playing well right now, having won two straight and three of their last four games, with all three victories coming on the road.
Nikola Jokic, the Nuggets' most notable player, is in excellent form. I hope Jokic keep it up in Monday's game.
Bones Hyland (illness) is listed as questionable for the Rockets game on Monday.
Hyland was present at Sunday's practice but did not take part fully. The Nuggets will presumably reassess Hyland during Monday's morning shootaround before providing an update on his status before the 9 p.m. game.
Michael Porter (heel) did not practice on Sunday.
Denver has yet to officially update Porter's status for Monday's game against the Rockets, but his lack of participation in practice does not appear to be a good sign for his chances of ending his two-game absence.