The Los Angeles Lakers (9-12) will travel to Washington, DC on Sunday to face the Washington Wizards (11-12). Both of these teams have had similar season starts and will be looking to get hot in this one.
Will LeBron James and Anthony Davis PLAYING today?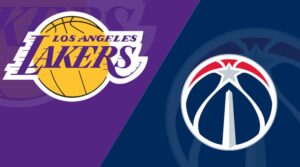 The Lakers are coming off a 133-129 victory over the Milwaukee Bucks. Los Angeles looked great on offense, with Anthony Davis and LeBron James carrying them to victory. If they want to challenge the Wizards on the road, they must stay hot in this one.
Despite a back issue, Anthony Davis is listed as probable for Sunday's game against the Wizards.
Davis has been listed as probable for each of the last three games, and he has not missed any of them.
Davis is coming off his best offensive performance of the season, when he scored 44 points as part of his ninth consecutive double-double.
According to Dan Woike of the Los Angeles Times, LeBron James is listed as questionable for Sunday's game against the Wizards due to left ankle soreness.
This season, James has been a regular on the Lakers' injury report, having dealt with a variety of issues throughout the season.
Wenyen Gabriel and Juan Toscano-Anderson could be the primary beneficiaries if he fails.
Meanwhile, Dennis Schroder has been absent from the team since Thursday, when he and his wife welcomed a baby boy. If he is not available on Sunday, Patrick Beverley and Russell Westbrook will most likely see extended playing time.
The Wizards come into this game after a 117-116 loss to the Charlotte Hornets. The Wizards struggled at the free throw line in that game, going only 26-35 from the line. If they want to defend their home court against the Lakers, they will need to be more efficient in this game.
Rui Hachimura is out for the season due to a bone bruise in his right ankle.
Hachimura has missed seven straight games due to the problem, and coach Wes Unseld's prediction that he will be out for a week is not encouraging.
During Hachimura's absence, Anthony Gill and Deni Avdija should continue to see extended playing time.