The (8-8) Philadelphia 76ers will travel to Charlotte, NC on Wednesday to face the (4-14) Charlotte Hornets. Both of these teams have dealt with injuries throughout the season, and both will be missing key players in this game.
Is LaMelo Ball, Joel Embiid playing today?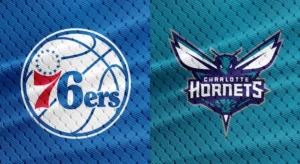 The Philadelphia 76ers are coming off a 112-109 loss to the Minnesota Timberwolves. They performed admirably in this game, but the Timberwolves were more decisive in the end. If the 76ers are to challenge the Hornets on the road, they will need to improve their defense.
Joel Embiid has been ruled out of Wednesday's game against the Hornets due to a left midfoot sprain.
Embiid's injury is unknown, but he still managed 32 points, nine rebounds, six assists, and three steals in the Timberwolves' loss on Saturday.
Nonetheless, the 76ers appear to be without their star big man for the upcoming back-to-back set, so his next opportunity to play will come Friday against the Magic.
Thybulle (left ankle soreness) is doubtful for Wednesday's game against Charlotte.
Thybulle appears to have re-injured the ankle he had been nursing for the past few games. The guard only stayed for three minutes before leaving.
The Charlotte Hornets are coming off a 106-102 loss to the Washington Wizards. The Hornets struggled to score enough points to keep the game close, shooting 39% from the field. If they want to compete with the Sixers at home, they must improve on the offensive end of the court.
LaMelo Ball (ankle) will miss Wednesday's game against the 76ers.
LaMelo Ball will miss his third straight game due to an ankle injury suffered in his second game of the season last Wednesday. Given his previous injury to the same ankle to begin the season, the team will most likely be cautious in bringing him back.
Ball's next opportunity to play will be against the Timberwolves on Friday.