David Njoku (born July 10, 1996) is a National Football League tight end for the Cleveland Browns (NFL). He was a Miami University football player (FL). The Browns selected him in the first round of the 2017 NFL Draft.
What injuries did David Njoku suffer during his career?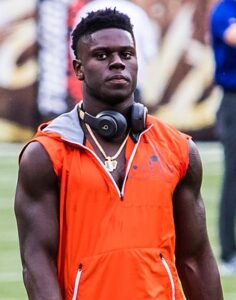 Injury:
Injury status: Active
UPDATE (Dec. 25): In Saturday's 17-10 loss to the Saints, Njoku caught two of his five targets for a total of 14 yards.
UPDATE (Dec. 18): Njoku had three catches on six targets for 28 yards in the Ravens' 13-3 victory on Saturday.
Njoku tied Amari Cooper for the team lead in targets, but he was unable to capitalize on his opportunity. His longest catch of the day was only 13 yards, and he has now received less than 30 yards in three of his last four games.
Despite the lack of production, Njoku has 25 targets in that time, indicating that he remains an important part of the Cleveland offense.
UPDATE (Dec. 13): In Sunday's 23-10 loss to the Bengals, Njoku caught seven of nine targets for 59 yards and a touchdown. He also had one rushing attempt for -2 yards.
UPDATE 5: David Njoku (knee) is listed as questionable for Sunday's game against the Bengals.
UPDATE 4: Njoku (knee) practiced in a limited capacity again on Thursday.
UPDATE 3: On Wednesday, Njoku (knee) participated in limited practice.
UPDATE 2: In the Browns' 23-17 overtime win over the Buccaneers on Sunday, Njoku caught five of seven targets for 29 yards and a touchdown.
UPDATE: In the Browns' 31-23 loss to the Bills on Sunday, David Njoku (ankle) caught two of three targets for 17 yards.
About David Njoku
No. 85 – 

Cleveland Browns

Position:

Tight end

Personal information

Born:

July 10, 1996
Cedar Grove, New Jersey

Height:

6 ft 4 in (1.93 m)

Weight:

246 lb (112 kg)

Career information

High school:

Cedar Grove
(Cedar Grove, New Jersey)

College:

Miami (FL) (2014–2016)

NFL Draft:

2017 / Round: 1 / Pick: 29

Career history