The Los Angeles Lakers (5-11) will travel to San Antonio, TX on Saturday to face the San Antonio Spurs (6-13). The game begins at 8:00 p.m. EST inside the AT&T Center. On November 20th, these two teams faced off, and the Lakers won 123-92.
Are Anthony Davis and LeBron James playing vs Spurs?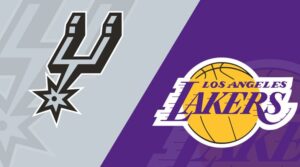 The Los Angeles Lakers are coming off a 115-105 loss to the Phoenix Suns. The Lakers' offensive struggles continued, as they shot only 18.2% from three-point range. If they want to compete with the Spurs on the road, they will need to be more efficient with the ball in their hands.
Anthony Davis has continued to lead the Lakers, averaging 26.4 points per game on 56% shooting from the field. He also averages 12.6 rebounds per game and is listed as questionable for this game due to a back injury.
LeBron James is also doubtful for this game due to a groin injury. If he is unable to play, the Lakers will suffer on both ends of the court.
The Lakers will also be without Patrick Beverley, who was suspended after knocking Deandre Ayton to the ground after the play. He won't be able to play until Wednesday.
The San Antonio Spurs are coming off a 129-110 loss to the New Orleans Pelicans. The Spurs struggled on both ends of the floor in that game, and they will need to be more energetic at home if they are to defeat the Lakers.
The San Antonio Spurs have had a difficult start to the season, finishing 13th in the Western Conference standings. They are also (1-9) in their last ten games, indicating a downward trend.
Spurs Injury Update:
Doug McDermott (SF) (Ankle), Zach Collins (PF) (Leg), and Jordan Hall (G) (Finger) are all doubtful.
Josh Richardson (Ankle) is questionable, and Blake Wesley (Knee) will be out until early January.