The Los Angeles Clippers (13-11, seventh in the Western Conference) will take on the Charlotte Hornets (7-16, 13th in the Eastern Conference) Monday, 7 p.m. EST, Charlotte, North Carolina.
Final injury report Charlotte Hornets – LA Clippers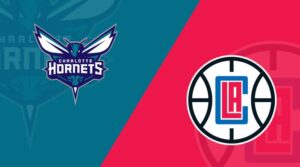 The Hornets are 4-7 at home. Charlotte has a turnover rate of 14.2 per game and is 4- when it turns the ball over less than its opponents.
LaMelo Ball (ankle) will miss Monday's game against the Clippers.
Ball will be out for the eighth time in a row due to a sprained left ankle. The 21-year-old has only appeared in three games this season and has yet to receive an official return date.
Dennis Smith (ankle) is also out, so Terry Rozier and Theo Maledon will handle the point guard duties.
Mark Williams (ankle) will miss Monday's game against the Clippers.
Williams will miss his second straight game due to an ankle sprain. He's spent the majority of the season with the Greensboro Swarm of the G League and has only appeared in three games for the Hornets.
The Clippers have a 6-5 record away from home. Los Angeles is the Western Conference's worst scoring team, averaging only 106.7 points per game while shooting 46.8%.
The Los Angeles Clippers have been without their star duo for nearly two weeks. Both Kawhi Leonard and Paul George have injuries that have kept them out for a stretch of games that has been difficult for the Clippers.
The good news is that Leonard and George accompanied the Clippers on their four-game road trip and are listed as questionable for Monday's game against the Charlotte Hornets. The pair was also listed as questionable for Saturday's game against the Kings, but did not play.
It's difficult to say whether they'll be ready for Monday in Charlotte, but they should return at some point during this trip.
In addition to Leonard and George's dubious statuses, Luke Kennard is also in doubt and Norman Powell is out.