The Cleveland Cavaliers host the Sacramento Kings on Friday night at 7:30 p.m. at Rocket Mortgage Fieldhouse.
Injury Reports Cleveland Cavaliers – Sacramento Kings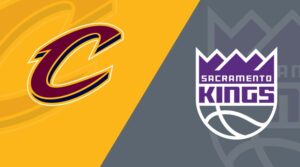 Match on the same day: Latest injury status Anthony Davis, LeBron James for Lakers vs. 76ers game
Due to right lower leg pain, Donovan Mitchell is doubtful for Friday's game against Sacramento.
Donovan Mitchell scored a season-high 43 points on Tuesday in the victory over the Lakers, but he later appeared to be experiencing leg pain.
Caris LeVert, Isaac Okoro, and Cedi Osman could see more playing time if he's unavailable on Friday.
Due to low back pain, Kevin Love will not play against the Kings on Friday.
Love will miss at least one game after being unable to practice on Thursday due to medical treatment. He missed the most recent game because of a thumb problem, but on Friday he will miss it because of a back problem.
It is unknown if he will be available for the second game of the back-to-back Saturday against Oklahoma City.
Related: Darius Garland' Injury status of the Cavaliers
According to the Cavaliers coach, Dylan Windler (ankle) is improving "slowly" but is still able to perform some limited on-court work, according to Evan Dammarell of FearTheSword.com.
A sprained right ankle has prevented Windler from making his season debut to date. The timetable for his return from Nov. 16 seems to take longer than anticipated, at 4-6 weeks. In the upcoming few weeks, Windler's return to the field of play appears unlikely.
Meanwhile, after his most recent consultation with the medical staff, Ricky Rubio (knee) received clearance to perform additional 5-on-5 work.
The team hasn't yet established a timetable for Rubio's return, but he is obviously making progress. Rubio, whose ACL injury necessitated surgery and extensive rehabilitation, will probably gradually increase his playing time even when he eventually returns to the field.
See more: Latest news on Brandon Ingram and Herbert Jones for Pelicans vs. Suns game
Due to right foot pain, De'Aaron Fox is rated as questionable for Friday's game against the Cavaliers.
De'Aaron Fox has participated in all but one game this season, but his performance has drastically decreased recently, failing to reach 20 points in any of his last five games.
If the star point guard is given the go-ahead on Friday, it will be important to keep an eye on his foot because it may help to explain his shooting difficulties. In that case, Davion Mitchell might start at point guard.