Kylie Jenner has been holding her baby son's name a secret after she and boyfriend Travis Scott announced in March that they had changed it from Wolf.
Kylie Jenner chose to reveal her baby son's real name, leaving fans perplexed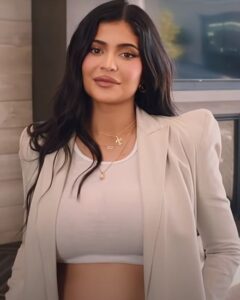 ALSO READ: Kanye West allegedly "showed explicit images of Kim Kardashian to Adidas employees"
Kylie Jenner has finally revealed the name of her baby boy, but the official statement has left some fans perplexed.
The Kardashians star, 25, and her boyfriend Travis Scott welcomed their baby boy in February and have worked hard to keep their child out of the spotlight thus far.
The baby was named Wolf shortly after birth, but the couple disclosed in March that they had chose to change the name.
Kylie Jenner demonstrated her son's name during the final episode of her family's reality show, ending months of speculation.
"This year has been very transformative for me," she said during a confessional.There's so many amazing things that I'm really excited about.
"To hang out with my babies and really dive into my work."
"My baby's name is still Wolf. I'll let you guys know when I change it. Maybe I'll tell you guys in season three." She continued, winking at the camera.
Fans immediately took to Twitter to express their feelings, with one perplexed fan writing, "Now what the f**k was that?"
Another was displeased with the revelation and stated: "Ughhhh still no baby names this season… im getting bored."
"@KylieJenner me thinking we were finally gonna find out your sons name you were rally like… Sike I can't wait and I'm so happy for you," a third fan penned. Another person tweeted: "@kyliejenner is teasing us."
READ MORE: Jess and Eve Gale of Love Island reveal that they give themselves pep talks before raunchy shoots to boost their confidence: "If you look nervous, it's just not going to work!"
In another segment of the episode, Kylie's sister Khloe Kardashian showed off her newborn son, with Kris Jenner gushing  about how beautiful he is.
"Life is good and a new baby in the family is magic. He's such a blessing.
"God has a plan and this baby was meant to be here and Khloe gets to be mommy again, so that's really really special and I'm really excited about that," she said in a confession.
Kim Kardashian then questioned Khloe about the name of her son, with momager Kris offering a suggestion.
"What are we gonna name him? That's what I wanna know," Kim stated.
Kris responded: "How about Rob? How about Rob Kardashian Thompson? And then just call him Rob Kardashian?"