Posted by PZ

on February 23rd, 2011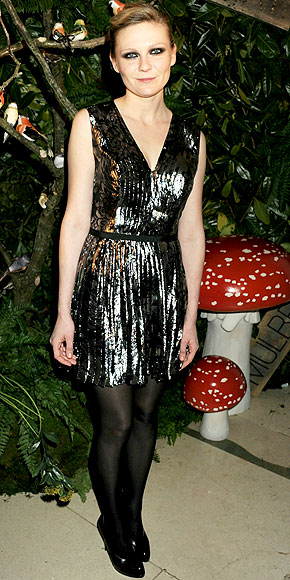 Kirsten Dunst attended the After-Party held after the Mulberry show at London Fashion Week. Dressed in a metallic distressed dress with a flattering pleated bottom half, Kirsten shone for the star-studded event. I've always been a fan of Kirsten both as an actress and as someone who can dress themselves vaguely well, anyone who has seen Marie Antoinette or her performance in The Virgin Suicides will also agree that there is something unique about her as an actress, and her style also mirrors this. She does the whole 'pale and interesting' thing so well, with dark smoky eye-makeup and swept back hair she looks mysterious and iconic.
Kirsten's look is simple yet edgy. Her dramatic eye makeup has given this look a darker edge that adds to the impact of the already dark dress, which has been accessorized with black tights and black heels. Kirsten looks fashion-forward with surrendering her own originality, and as the saying goes (as first murmured by Cecil Beaton) "The truly fashionable are beyond fashion".
Category:
Kirsten Dunst